News
13 June 2007
Honda starts selling CIGS solar cells
Honda's solar cell subsidiary Honda Soltec Co Ltd (which was founded last December) has begun selling CIGS (copper indium gallium diselenide) thin-film solar cells. Developed and currently made by Honda's production engineering subsidiary Honda Engineering Co Ltd, the cells are available only in Japan in limited areas (mainly in the Kanto region) through distributors that also provide the installation service.
However, this autumn Honda Soltec will start mass production at its new ¥7bn ($61m) 11,080m² plant, which it began constructing at the end of September 2006 within the Kumamoto factory of Honda Motor Co Ltd. A staffing level of 150 and an annual capacity of 27.5MW at full production should lead to the expansion of sales throughout Japan.
The 14.3 kg, 1417mm x 791mm x 37mm photovoltaic modules have a maximum output of 125W, based on solar radiation intensity of 1kW/m² and a module temperature of 25°C under AM1.5 conditions (where AM = air mass). The suggested retail price is ¥60,375 ($496). This compares with an average price for 125W PV modules of about $610 (according to http://www.solarbuzz.com/moduleprices.htm).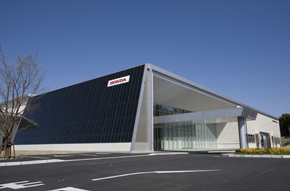 Picture: Honda Soltec's volume-production plant (to begin operation this
fall).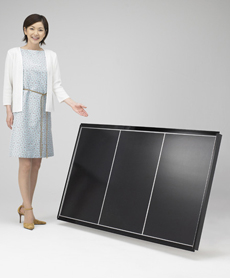 Picture: Honda Engineering's CIGS thin-film solar cell module.
See related items:
Energy producer Hydro invests in Ascent Solar for CIGS-based flexible solar cells
Honda establishes Soltec CIGS solar cell subsidiary