News
13 June 2007
Lumination launches violet-chip-based warm-white LED for lighting applications
GE Consumer & Industrial's LED business Lumination LLC (formerly Gelcore) has launched the VIO high-power white LED, which combines a 405nm violet-emitting chip (which operates at a higher-efficiency wavelength than blue LEDs, it is claimed) with a proprietary blend of phosphors on its hemispherical lens (for converting the violet light to white light). Luminous efficiency is up to 45lm/W in warm white colors.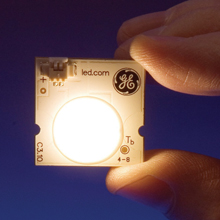 The VIO LED is offered in options of 1W or 4W power output (with typical flux of up to 162 lumens), and in color temperatures of 3500K and 4100K (with 3000K to be available in late 2007/early 2008). The simplified, tight, application-driven color bin limits (with part-to-part color variation of just ±200K for full distribution and ±100K for sub-bins) are centered on general illumination ANSI color points.
Furthermore, over a 50,000 hour rated life (operating at 500mA and at a maximum operating board temperature of 85°C), in addition to 70% lumen maintenance Lumination reckons that the VIO's violet-emitting chip technology produces a color shift of less than 100K. "Our violet-chip technology offers the best available control of color shift in white LEDs," claims VP of marketing Kraig Kasler.
The minimal color shift overcomes many of the inherent color-control issues of standard blue or red–green–blue LED devices, the firm claims. As well as flexible options for color temperature and color rendering index (CRI = 70 at 45lm/W or 85 at 38lm/W), the VIO also provides high efficiency at warmer color temperatures. Therefore, as well as area, display, accent, landscape and architectural lighting, applications include standard fixtures for general illumination.
"Often, LEDs used in fixtures produce glare or bright spots. The use of multiple point sources in fixtures (e.g. several LEDs grouped together) has the potential to produce multiple shadows," continues Kasler. "VIO LEDs eliminate such distractions. High-power, 4W VIO LEDs distribute diffused light more evenly over a 180 degree beam angle," he adds. "Based on its performance, our VIO LED is a real alternative light source that will maintain a consistent appearance over a period of years," he claims.
See related items:
GELcore switches name to Lumination LLC
GE buys Emcore's stake in GELcore for $100m; partners with Nichia
Visit: http://www.lumination.com