News
26 June 2007
Photonic Products launches 'Near End of Life Detection' laser module
At last week's 'LASER 2007 - World of Photonics Congress' event in Munich, Germany, UK laser diode maker maker Photonic Products (a subsidiary of StockerYale Inc of Salem, NH, USA) showcased new 635nm Photon laser modules with a 'Near End of Life Detection' facility, for OEM use in diverse applications such as industrial alignment and positioning, medical fluorescence and bar code readers.
As a laser diode approaches the end of its operational life, its imminent failure is signalled by an increase in the current being drawn from its drive circuitry. Typically, when the current draw reaches a value of 120% of its original operating value, the laser diode is considered to have reached its 'Near End of Life' condition.
The PM-NEOLD laser diode modules have an integral 'Near End of Life Detection' facility which is set to respond when this condition has been reached. The generated signal can be used to trigger an audible alarm or an LED warning light.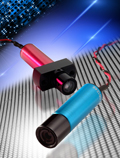 The modules have optical output powers from 0.9mW to 18mW at a lasing wavelength of 635nm, power stability greater than 5%, operating voltage of 3-6V DC and operating temperature from -10 degrees to + 50 degrees Centigrade. The lens may be adjusted to produce either a collimated beam or a focused spot, or replaced by other optical systems such as line generators.
See related item:
Higher-power 405nm blue-violet laser module