At this week's IEEE MTT-S International Microwave Symposium (IMS 2007) in Hawaii, TriQuint Semiconductor of Hillsboro, OR, USA is debuting its new TGA4916 and TGA4906 die-level high-power amplifiers (HPAs), which offer higher performance in a smaller area plus greater cost effectiveness in satellite communications (sat-com) ground-terminal RF chipsets, the firm claims.
The market for earth-station sat-com products is forecast for continued growth through 2011, according to market research firm Strategy Analytics, with a sizeable shift toward higher-frequency systems: the Ka-band portion of the market should grow from less than 10% of the overall sat-com market in 2006 to nearly 40% by 2011.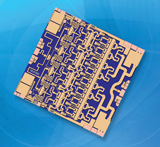 Applications include satellite-based Internet service, data transfer and video uploads/downloads. Typical home and business usages include data connectivity for ATMs, supermarkets/retail outlets, hotels, airlines, car rental agencies.
Picture: TGA4906 die.
The new GaAs monolithic-microwave integrated circuits were developed as part of TriQuint's program to drive the evolution of VSAT (very small aperture terminal) components for ground-station RF systems. They further support the firm's vision to offer smaller, more highly integrated products for next-generation communication systems designs.
TriQuint says that, since 2001, it has made efforts to increase the functionality of VSAT HPAs within a smaller die surface area. Using 0.15µm GaAs pHEMT technology with three layers of interconnecting metal (3MI) on 50µm substrate material, TriQuint says it has reduced the overall chip size by 35%. While die size has decreased dramatically, the amplifier power density has increased by a factor of six over the product development lifetime, enabling either a reduction in the overall size of finished products (with corresponding cost savings) or placement of more features into the same PC board area.
"There are two primary forces driving the development of new products for VSAT RF front-end applications," says product marketing director Paul Gilgallon.
Firstly, in the area of die-level products, the push for high integration is a major factor. TriQuint's single-chip TGA4916 is a 29-31GHz Ka-Band, fully monolithic HPA with 38.5dBm (7W) of saturated output power and 21dB of small-signal gain. The TGA4906 is a 'half-chip' 28-31GHz version of the TGA4916 with 36dBm (4W) of saturated output power and 24dB of small-signal gain.
Compared to the previous generation, the latest VSAT HPAs offer greater power added efficiency (PAE at Psat >18% at 30GHz for the TGA4916; >20% at 30GHz for the TGA4906). This translates into less heat accumulation (critical for devices inside ground-terminal radios, typically at the end of a boom affixed to a rooftop dish) and less DC power needed to drive the amplifier.
"The other trend is packaging," says Gilgallon. The new products will be offered in packaged versions in second-half 2007, supporting TriQuint's new strategy, detailed in its three-part vision on 21 May for simplifying network connectivity needs in next-generation systems. This includes providing: more integrated devices for size- and cost-constrained applications; more packaged product options (especially in the high-frequency area); and a simpler way to access our products. "TriQuint continues to package more of our die-level products in response to market needs, increasing access for new and existing customers to our extensive portfolio," adds Gilgallon. "Greater availability of packaged parts enables more design options while simplifying assembly."
See related items:
TriQuint launches packaged versions of RF circuits for digital radio and sat-coms
TriQuint unveils 'RF vision' for simplifying connectivity in next-generation wireless networks
TriQuint results boosted by new top-five handset customer
Visit: http://www.triquint.com/rf