News
23 March 2007
Nitronex moving HQ to Durham, NC as part of expansion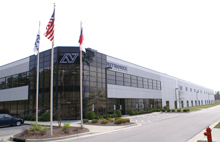 Nitronex, which manufactures gallium nitride-on-silicon RF power transistors for the commercial wireless infrastructure, broadband and military markets, is moving its corporate headquarters from its current R&D facility in Raleigh, NC, USA to a manufacturing facility adjacent to the Research Triangle Park (RTP) in Durham, NC.
The expansion is part of a strategic decision to move all divisions into a new 69,000 square foot facility that will enhance its manufacturing capacity and capability as well as provide space needed for expanding R&D. Nitronex expects that all operations will be consolidated in the new facility by third-quarter 2007, as well as expecting ISO 9000 qualification by the end of the year.
Nitronex was founded in 1999 by graduates of the wide-bandgap program at North Carolina State University, which is sited in Raleigh. "The relocation of our corporate headquarters to the industrial park in Durham, NC enables the expansion of our manufacturing capabilities and strengthens our company's position to address many of the challenges facing the cellular, broadband and WiMAX markets," said Chris Rauh, VP of sales & marketing. This facility was designed specifically for the firm's R&D and manufacturing operations and provides the necessary facilities for developing new product lines and ramping volume production, he adds.
"To accelerate our new product development efforts, and ramp our production capacity in response to the growing demands of our customers, we have selected Durham, NC as the site for our new manufacturing facility and corporate headquarters," said president & CEO Charles Shalvoy. The Research Triangle Park area is an internationally recognized technological development community, with excellent local educational institutions, he adds. "While we carefully considered several other geographic locations, Durham was our first choice."
See related items:
Nitronex appoints RF design expert as MMIC product development manager
Nitronex teams with Rockwell Collins to develop GaN-on-Si power transistor manufacturing for military use
Visit: http://www.nitronex.com