News
3 May 2007
Nitronex adds Anadigics' CEO Bastani to board
Nitronex, which manufactures GaN-on-silicon RF power transistors for the commercial wireless infrastructure, broadband and military markets, has added Dr Bami Bastani (president and CEO of GaAs-based RFIC maker Anadigics Inc of Warren, NJ, USA since 1998) to its board of directors.
"Nitronex's recent expansion of its GaN-on-Si R&D and manufacturing operations [at its new headquarters in Durham, NC, USA] has solidified it as the leader in GaN-on-Si power device technology," says Bastani. "Nitronex is well positioned to continue its new product development and ramp-up of volume production of its GaN-on-Si power transistors."
Bastani is also a member of the board of directors for Glowpoint Inc, and is on the advisory boards for Electrical Engineering at Ohio State University, and the College of Engineering at the University of Arkansas. Bastani was previously executive VP for System LSI Group at Fujitsu Microelectronics, and VP and general manager for Embedded Technologies Division, Memory Products Division and VP of Technology Development at National Semiconductors.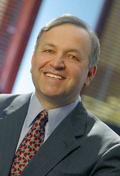 *Bastani inducted into New Jersey High-Tech Hall of Fame
In March, Bastani was one of three people in the Outstanding Business Leaders category inducted into the New Jersey High-Tech Hall of Fame for 2007. Bastani was nominated by the American Electronics Association (AeA) on the basis of his contributions to the high-technology community in New Jersey.
See related item:
Nitronex moving HQ to Durham, NC as part of expansion
Visit: http://www.nitronex.com