LED products in illumination applications constituted less than 10% of the $2.8bn total LED market in 2006, but are expected to grow at a compound annual growth rate (CAGR) of 35% to nearly $1.4bn by 2012, forecasts market research firm Databeans in its latest newsletter.
The evolution of the lighting industry is underway, says Databeans, as indicated by announced plans for restructuring traditional lighting business operations (operating in a market estimated to be over $100bn in 2006). GE, one of the world's oldest lighting suppliers, has been moving aggressively into energy-efficient lighting technologies, as has Philips.
The market for LEDs for all applications (backlighting displays, indicator lamps in consumer and wireless electronics, and vertical illumination applications, such as commercial signage and automotive) is growing at a record CAGR of 15%, Databeans adds.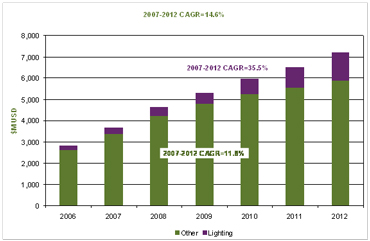 Chart credit: Databeans
See related items:
More LED power and efficiency needed to profit from general lighting market
LED market returns to double-digit growth in 2007
Opto-enabled product and component market to grow at 7.7% annually to 2017
Analysts forecast seven-year wait before LEDs penetrate home lighting market
Search: LEDs
Visit: www.databeans.net