News
13 November 2007
Honda Soltec opens CIGS PV production plant
Honda Motor Co Ltd's solar cell subsidiary Honda Soltec Co Ltd, which was founded last December, has formally opened its ¥7bn ($61m) copper indium gallium and diselenide (CIGS) thin-film solar cell production plant in Kumamoto Prefecture, Japan (which shares space with the parent company's auto assembly operation). Construction began at the end of September 2006.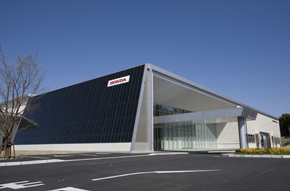 The opening ceremony was attended by about 80 dignitaries, guests and Honda officials, including Yoshiko Shiotani (the governor of Kumamoto prefecture), Junichi Mitsuyama (deputy general manager of Natural Resources, Energy and Environment Department in the Kyushu Bureau of Economy, Trade and Industry), and Isao Ieiri (the mayor of Ohzu-machi), as well as Honda's president and CEO Takeo Fukui.
Honda's next-generation CIGS solar cell achieves a reduction of about 50% in the amount of energy consumed during the manufacturing process compared to what is required to produce conventional crystal silicon solar cells, the firm claims, making the solar cell more environmentally responsible even during its manufacturing.
Mass production began in October and, with 150 staff and an area of 11,080m2, should reach the full annual capacity of 27.5MW (sufficient to power about 9000 homes, each with a 3kW system) by next spring.
Developed and (up to now) made by Honda's production engineering subsidiary Honda Engineering Co Ltd, the cells have been available in Japan since June in limited areas (mainly in the Kanto region) via distributors that also provide the installation service.
The firm has now begun sales of solar cells for homes throughout Japan via 80 distributor locations, and plans to accelerate sales by increasing the number of distributor locations to more than 200 in 2008.
Honda Soltec sells two specifications of solar cell module (each measuring 1417mm x 791mm x 37mm and weighing 14.3kg): the ¥60,375 HME125PA and ¥52,290 HME115PA, which have maximum power output per module of 125W and 115W, respectively, measured for solar radiation intensity of 1kW/m 2 and a module temperature of 25°C under AM1.5 conditions (where AM = air mass).
Honda also aims to begin exports from the new operation in Kumamoto.
See related items:
Veeco launches thermal deposition sources for CIGS solar cells
HelioVolt raises $77m in second-round funding for CIGS
SoloPower raises $30m in funding following $2.37m DoE grant award
Honda starts selling CIGS solar cells
Search: CIGS Solar cell
Visit: http://world.honda.com/HondaSoltec