News
6 November 2007
Nitronex qualifies Durham wafer fab for volume production
Nitronex Corp, which manufactures gallium nitride on silicon (GaN on Si) RF power transistors for the commercial wireless infrastructure, broadband and military markets, has completed qualification of its new manufacturing plant in Durham, NC, USA, verifying that it has replicated the process developed at its former headquarters and R&D facility in Raleigh, NC and that the new fab is prepared for volume production.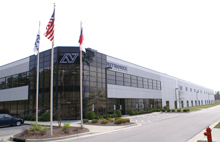 The move from Raleigh to Durham began in first-quarter 2007 and was finished in the second quarter, with qualification testing being completed in October. A summary of Nitronex's fabrication qualification report will be available in late November.
"Completing rigorous qualification verifies that the material produced in the new Durham facility matches material produced in Raleigh," says VP of operations Bruce Cochran. "The data for parts generated in Durham show the same reliability and performance when compared to products from our Raleigh facilities," he adds. "This is a milestone for the company, and is further evidence that we have evolved from pilot-line production to volume manufacturing."
The qualification completes the firm's relocation into its new 85,000 square-foot R&D and manufacturing facility. Nitronex says that the move enhances its manufacturing capacity and capabilities, while providing additional space for expanding R&D efforts.
See related items:
Nitronex expands Richardson distribution agreement to Americas and Asia
Nitronex moving HQ to Durham, NC as part of expansion
Nitronex teams with Rockwell Collins to develop GaN-on-Si power transistor manufacturing for military use
Search: Nitronex Gallium nitride on silicon
Visit: www.nitronex.com