News
9 October 2007
Veeco launches E475 MOCVD system for R/O/Y HB-LEDs and solar cells
Veeco Instruments Inc of Woodbury, NY, USA has introduced its new TurboDisc E475 As/P MOCVD system for the mass production of red, orange, yellow (R/O/Y) high-brightness LEDs (HB-LEDs) and multi-junction III-V concentrator solar cells (mainly for space applications).
"Our TurboDisc E450's ability to produce consistently high yields of premium R/O/Y LEDs and multi-junction solar cell devices with the industry's best throughput made it the top-selling MOCVD tool for these applications," claims Dr Piero Sferlazzo, VP and general manager of MOCVD Operations. Now, the next-generation E475 delivers 15% increased capacity and improved cost-of-ownership metrics. "Customers can choose to purchase a new E475 or upgrade their existing E450 tools to the improved specifications, further enhancing their return on investment," adds Sferlazzo.
TurboDisc As/P MOCVD tools are being adopted for cost-of-ownership benefits in the high-volume production of multi-junction III-V concentrator solar cells, R/O/Y HB-LEDs, laser diodes, pseudomorphic high-electron-mobility transistors (pHEMTs) and heterojunction bipolar transistors (HBTs), says Veeco.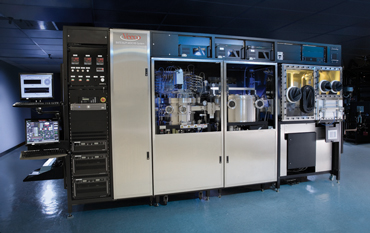 Picture: Veeco's new E475 MOCVD system delivers 15% more capacity than the company's TurboDisc E450.
"Our systems offer a level of process control and reliability unmatched by competing MOCVD technologies," claims Sferlazzo. The systems feature Veeco's integrated RealTemp 200 technology, enabling superior material quality and process efficiency from direct wafer temperature control, fast gas switching for strict control of interface abruptness, and vacuum load-lock automation for highest productivity, the firm adds.
See related items:
Veeco's booming HB-LED equipment sales compensate for data storage slump
Veeco appoints John Peeler as CEO; receives Q1 orders of almost $11m for K-Series MOCVD systems
Veeco's boom in MOCVD orders driven by LED market
Search: MOCVD HB-LEDs Concentrator solar cells
Visit: www.veeco.com/e475