News
7 September 2007
Bookham qualifies submarine pump laser and starts volume shipments
Optical component, module and subsystem manufacturer Bookham Inc of San Jose, CA, USA says that its OceanBright submarine 980nm pump module has achieved full qualification. The module, which is used in erbium doped fiber amplifiers (EDFAs), has started volume shipments and is already being deployed in undersea cable systems. The product will be debuted in Europe at the ECOC 2007 event in Berlin, Germany, 17-19 September.
To achieve full qualification, the module has demonstrated its ability to meet submarine reliability requirements of less than 50 FITs ( failures in time). Bookham says it has performed extensive qualification testing, including module-level lifetest at highly accelerated conditions, analysis of which shows negligible changes in device characteristics (equating to a predicted change in output power of less than 2% over a 27 year lifetime).
"The performance and reliability data for the 980nm pump module confirms its ability to perform to extremely high standards in very demanding conditions. Bookham has long been perceived as a leader in the terrestrial pump market," claims PLM director Mark Ives. "This product is expanding that expertise into the undersea cable market."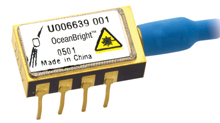 "The OceanBright module is the latest in a line of products built on our proven laser chip technology, which has now been deployed in volume to the submarine market for ten years."
The OceanBright module incorporates Bookham's G08 generation-eight laser chip, can exceed a power output of 400mW at operating temperatures of 0-45°C and complies with multi-source agreement requirements for use in uncooled applications. Bookham's range of pump products also includes ultra-high-power cooled butterfly and uncooled high-power single-mode and multi-mode pumps.
*Bookham ships 100,000th InP MZ modulator
Bookham has shipped its 100,000th indium phosphide-based Mach-Zehnder (MZ) modulator.
The firm's InP MZ modulator, which has been in production and co-packaged with lasers for over ten years, has accumulated billions of field hours, demonstrating a high level of reliability of less than 30 FITs.
"InP MZs offer a smaller footprint and lower cost than competing LiNbO 3 and GaAs modulators, and have proven their ability to perform in 10Gb/s metro and long-haul applications," says Jon White, who is product line manager for Bookham's InP MZ and tunable portfolio.
"With increasing bandwidth demanding higher line-card density, the ability to produce ever smaller components and modules is a critical differentiator," White says. "InP offers the ideal platform on which to build the next generation of tunable technology and will enable our future 40Gb/s developments and small-form-factor products."
Bookham says that the InP technology now underpins its new vertically integrated tunable portfolio, including the MSA-compliant integrable tunable laser assembly (iTLA), tunable transmitter assembly (TTA), and tunable small-form-factor transponder (TSFF).
The TTA and the TSFF (the key products from Bookham's tunable InP MZ portfolio) will be demonstrated live at ECOC 2007.
See related items:
Bookham introduces 980nm pump laser module
Bookham 980nm pump technology chosen by Tyco for undersea applications
Visit: http://www.bookham.com