News
14 September 2007
Pirelli adds full L-band coverage to DWDM tunable range, and launches 120km XFP optical transceiver
At this week's European Conference on Optical Communication (ECOC 2007) in Berlin, Germany, Pirelli Broadband Solutions of Milan, Italy is unveiling an expanded range of pluggable and tunable component and module product families that allow operators to optimize cost-performance ratio and to reduce complexity of optical networks, the firm claims.
*Pirelli is adding full L-band coverage (40nm/100 channels) to its DWDM tunable portfolio. This includes its DTL (dynamically tunable laser), which is Telcordia GR-468-CORE qualified and hermetically sealed in a 26-pin butterfly package, its ITLA (integrable tunable laser assembly, which allows telecom operators to integrate tunability into networks while reducing development costs and time to market, and its 300-pin MSA transponders, which are available in multiple optical interfaces (NRZ, negative-chirp NRZ and duobinary formats) and extend the reach of metro networks to more than 350km. All L-band solutions deliver the same functionality as their C-band counterparts (built-in reliability, simplified network configurations and reduced systems costs), says Pirelli.
With an enhanced tunable portfolio for next-generation WDM networks, Pirelli says that its solutions are now suitable for metro networks in new markets such as Japan and countries in Latin America like Brazil. "Adding L-band functionality to our tunable product offering is the logical next step in anticipating customer demands," says Daniele Fadini, senior VP of sales for Optical Components & Modules. "Reducing inventory, number of lambdas [wavelengths], providing one interface for all wavelengths, and offering flexibility in the optical layer are now achievable benefits for network operators using the L-band spectrum."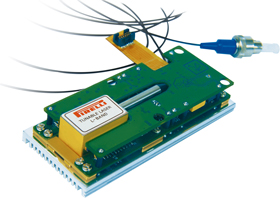 Picture: Pirelli's new ITLA.
*Pirelli is also expanding its presence in the pluggables market with the launch of a 120km XFP optical transceiver.
Compliant with the ITU-T G.959.1 recommendation, it is specifically designed to address metro TDM and WDM applications, transmitting signals up to 120km without the need for dispersion compensation units. Like all Pirelli optical transceivers, the 120km XFP supports SONET/SDH, 10 Gigabit Ethernet and FEC applications.
"The 120km-reach XFP is emerging as a new standard," says Mauro Macchi, senior VP of Development and Product Management. "With this new module, we can target TDM and WDM applications in the metro market, while helping operators to reduce the cost and complexity of the optical network."
Pirelli says that its XFP product family features high output power and a wide range of dispersion tolerance levels for distances of 80 to 200km+, allowing the cost-performance ratio across metro and regional networks to be optimized.
See related items:
Bookham's tunable transmitter assembly reaches full Telcordia qualification
JDSU demos tunable 'transmitter-on-a-chip' PIC technology
Tunable laser manufacturer Syntune raises $7.1m in second-round funding
Avanex acquires Essex Corp's Commercial Communication Products Division
Visit: http://www.pirellibroadband.com