News
28 July 2008
Intense launches high-power, 905nm short-pulsed laser in rugged package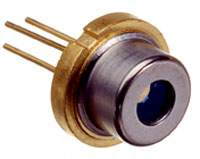 Laser manufacturer Intense Ltd of Glasgow, Scotland, UK has launched the Series 2675 Epi-Stack, a high-power, 905nm short-pulsed diode laser capable of up to 75W of peak power from a small 200µm x 10µm aperture.
The Series 2675 consists of a single, monolithic chip with three high-efficiency, epitaxially grown emitters, enclosed in a rugged, hermetically sealed 5.6mm (TO56) package. The firm says that this provides a cost-effective and reliable solution for integrators that need to simplify system design with reduced component count and lower cost.
The Epi-Stack is designed for low duty-cycle operation, typically 200ns, 2kHz, at operating temperatures of -40ºC to +85ºC. No thermo-electric (TE) cooling is required. The lasers are designed for aerospace, defense, and industrial applications that require ultra-high power from a small emitter area, such as LiDAR (light detection and ranging), range finding, geoscanning-mapping, ceilometers, and weapons simulation.
"Developed in direct response to defense and industrial market requirements for more rugged and compact short-pulse monolithic arrays, the Series 2675 Epi-Stack builds on Intense's line of high-power pulsed laser diode offerings," says Kevin Laughlin, VP HPL global business development. "The compact, hermetically sealed, 5.6mm package makes this device ideal for most military and industrial applications where shock, vibration, and exposure to extreme environments are a concern."
Packages other than the TO56 are available on request.
See related items:
Intense launches high-power 808nm single-mode diodes for green laser pumping
Intense launches 793nm laser for thulium fiber pumps
Search: Intense Diode laser
Visit: www.intenseco.com