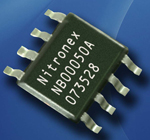 Nitronex Corp of Durham, NC, USA, which manufactures gallium nitride on silicon (GaN-on-Si) RF power transistors for the commercial wireless infrastructure, broadband and military markets, has developed a GaN high-electron-mobility transistor (HEMT) that delivers 45W at 28V for high PAR (peak-to-average ratio) and pulsed applications.
The announcement was made at this week's GOMACTech 2008 (Government Microcircuit Applications & Critical Technology) conference in Las Vegas, NV, which brings together microcircuit industry leaders engaged in development work for the US military and other government agencies.
Designed using Nitronex's patented SIGANTIC NRF1 process, the NPT1004 combines a broadband DC to 4GHz high-power-density GaN-on-Si HEMT with a cost-effective thermally enhanced plastic package to offer an optimized solution for light thermal load power applications.
"Feedback from early customers confirms that the NPT1004 is an excellent fit for high peak-to-average power amplifiers for WiMAX and pulsed waveforms found in radar, telemetry and medical applications," says Chris Rauh, VP of marketing & sales. "We believe these markets need the unique power, bandwidth and efficiency combination GaN devices can offer."
The NPT1004 delivers 5W average power for 2.5-3.5GHz WiMAX applications (single-carrier OFDMA, 64-QAM 3/4, 10.3dB peak to average, 10MHz channel bandwidth) and 4.5W for 3.3-3.5GHz WiMAX applications (single-carrier OFDMA, 64-QAM 3/4, 10.3dB peak to average, 3.5MHz channel bandwidth).
The NP1004 is packaged in a thermally enhanced PSOP package. Samples and application boards are available. Pricing is $29 each in quantities of 1000.
See related items:
Nitronex launches 5W GaN-on-Si pre-driver to complete amplifier line-up
Nitronex qualifies Durham wafer fab for volume production
Nitronex's 100W GaN-on-Si HEMT now production qualified
Search: Nitronex GaN GaN-on-Si GaN HEMT
Visit: www.nitronex.com