News
13 November 2007
Nitronex launches 5W GaN-on-Si pre-driver to complete amplifier line-up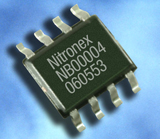 Nitronex Corp of Durham, NC, USA, which manufactures gallium nitride on silicon (GaN-on-Si) RF power transistors for the commercial wireless infrastructure, broadband and military markets, has developed a 28V, 5W class high-electron-mobility transistor (HEMT) designed for broadband applications from DC–6.0GHz.
Designed using Nitronex's patented SIGANTIC NRF1 process and packaged in a cost-effective plastic over-molded SOIC-8 package with an exposed thermal pad, the NPTB00004 achieves 250mW average output power at 1% error vector magnitude (EVM) in 3.5GHz WiMAX systems (single-carrier orthogonal frequency-division multiplexing access (OFDMA), 64-QAM 3/4, 8-burst, 20ms frame, 15ms frame data, 3.5MHz channel bandwidth, peak/average = 10.3dB).
"Having seen market demand for full transmitter line-ups based on GaN technology, we developed the NPTB00004, an excellent pre-driver for our higher-power products such as the NPT25100," says director of marketing Ray Crampton. "Combined with other broadband Nitronex devices, this device allows designers to develop power amplifiers for multiple frequency bands using a common power device lineup," he adds.
The NPTB00004 is production ready, and the qualification report is available online.
Samples and application boards are available. Typical pricing is $9 each in quantities of 1000.
See related items:
Nitronex qualifies Durham wafer fab for volume production
Nitronex's 100W GaN-on-Si HEMT now production qualified
Cree samples new GaN HEMTs for WiMAX and launches AWR PDK for high-power GaN MMIC process
Nitronex launches 100W GaN-on-Si HEMT power transistor for WiMAX
Search: Nitronex HEMT Gallium nitride on silicon
Visit: www.nitronex.com