Nitronex of Durham, NC, USA has recruited Dr Robert A. Sadler (who has more than 27 years of industry experience in compound semiconductor device and process engineering) as its principal engineer.
"Nitronex is the only fully qualified supplier of gallium nitride-on-silicon (GaN-on-Si) RF power transistors," says Sadler. "They are positioned to combine the high performance of GaN technology with low-cost silicon substrates to achieve new levels of affordability for high-voltage RF power," he reckons. Sadler aims to employ his previous experience with GaN technology to further the development of Nitronex's products and processes."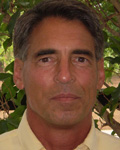 Sadler was most recently technical director, devices, for Northrop Grumman Corp, where he was responsible for the development of GaN technology. He also previously worked at RF Micro Devices as a principal scientist, responsible for the initial pilot production of GaN power transistors.
Picture: Dr Robert A. Sadler.
Sadler received his doctorate from Cornell University, and his masters and undergraduate degrees from North Carolina State University (from which Nitronex was spun off in 1999). Sadler is a senior member of the Institute of Electrical and Electronics Engineers (IEEE) and a permanent member of the IEEE Electron Device Society and Microwave Theory & Techniques Society. He has published more than 75 technical papers and holds 11 US patents on compound semiconductor devices and processes.
"Sadler's substantial gallium nitride and silicon carbide product and technology development experience is a great asset to Nitronex as we continue to further enhance our GaN technology for commercial and military RF power applications," says the firm's chief technology officer Kevin Linthicum.
See related items:
Nitronex recruits principal MMIC engineer
Nitronex and Nujira collaborate on high-efficiency WiMAX PAs
Nitronex and Merrimac to develop highly integrated PAs for wireless infrastructure
Nitronex develops 45W GaN-on-Si HEMT for high-PAR power amplifiers at 2.5 and 3.5GHz
Search: Nitronex GaN RF power transistors
Visit: www.nitronex.com