News
7 October 2008
Intense's 630-690nm laser driver systems receive CE mark approval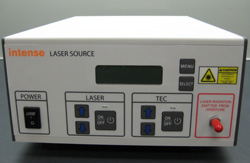 Laser manufacturer Intense Ltd of Glasgow, Scotland, UK has received CE mark approval for its Series 7400 laser driver systems, which are turnkey systems designed to provide current control and temperature compensation of the firm's high-power, free-space or fibered visible laser components.
Unlike traditional laser drivers, they are complete, integrated systems that include current driver, temperature controller, as well as a choice of high-power red laser diodes with wavelength of 630-690nm and power levels up to 4W. Series 7400 systems are designed specifically for medical research applications in rapidly growing areas of photo-dynamic therapy (PDT) and low-level laser therapy (LLLT).
"Obtaining the CE mark was in direct response to EU customer demand for high-brightness, high-power, 'ultra red' devices," says Kevin Laughlin, VP HPL global business development. "CE mark approval now clears the way for use of these systems by leading research institutes, hospitals, and medical OEMs throughout the EU," he adds. "Standard systems are available in easy-to-use, turnkey configurations. OEMs can also easily integrate subassembly modules into their own medical systems."
Series 7400 systems are available in three versions: the 7401 portable, turnkey laser driver system; the 7403 OEM ruggedized version for easy integration into the front panel of OEM medical systems; and the smaller 7404 system (weighing only five pounds) with its own front-panel controls (allowing easy adjustment of power and temperature).
Both the 7401 and 7403 can be fitted with an optional in-line power monitor and integrating sphere. All units offer timers and closed-loop constant power control features. The systems can be fitted for a variety of industry-standard fiber connection options on the front panel. Custom power levels and wavelengths are available on request.
See related items:
Intense launches high-power, 905nm short-pulsed laser in rugged package
Intense launches high-power 808nm single-mode diodes for green laser pumping
Search: Intense
Visit: www.intenseco.com