News
29 October 2008
SEI launches 10G CWDM SFP+ module with internal CWDM DFB laser chip
To support market demand for ultra-high-speed data transmission and exchange, Tokyo-based Sumitomo Electric Industries Ltd (SEI), a supplier of solutions for optical components, modules and sub-systems, is expanding its 10Gb/s portfolio with the introduction of a coarse wavelength division multiplexing (CWDM) SFP+ transceiver module that uses SEI's 10Gb/s CWDM DFB (distributed feedback) laser diode chip and supports parallel transmission at 80Gb/s (eight channels, from 1470nm to 1610nm).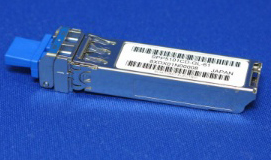 The 10Gb/s CWDM SFP+ module is MSA compatible and allows up to 48 ports per line card, reducing cost per bit. SEI says that the internal DFB laser chip is manufactured using enhanced processes and achieves lower reduced parasitic capacitance than the existing product. The module covers a center wavelength from 1470nm to 1610nm with a 20nm spacing. Since transmission distance is less than 10km, power penalty due to chromatic dispersion can be negligible, so competitive direct modulation can be used, the firm says.
Sumitomo Electric plans to launch the 10 Gb/s CWDM SFP+ module on the market in 2009.
See related items:
SEI launches 10Gb/s 80km transceiver with built-in EDC circuit and DML
Sumitomo Electric sampling coaxial laser for high-bandwidth wireless
Sumitomo Electric launches SFP 6G Series
Search: Sumitomo Electric Industries SFP+ transceiver
Visit: www.sei.co.jp