News
18 September 2008
SEI launches 10Gb/s 80km transceiver with built-in EDC circuit and DML
Tokyo-based Sumitomo Electric Industries Ltd (SEI) is expanding its 10Gb/s transceiver portfolio by launching an integrated direct modulation laser diode (DML) with a built-in electronic dispersion compensation (EDC) feature for use in 80km transceivers. SEI will demonstrate the new 10Gb/s technology at next week's 34th European Conference and Exhibition on Optical Communication (ECOC 2008) in Brussels, Belgium.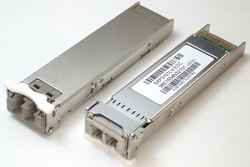 Previously, DMLs were used in transceivers up to data rates of 2.5Gb/s. For 10Gb/s ZR applications, DMLs did not provide a reliable light source, says the firm, because transmission distance was limited by chromatic dispersion due to optical spectrum chirping. As a result, such light sources had to be combined with an expensive external modulation laser diode (EML) for this application.
SEI claims that the new design is the first product to integrate a DML and an EDC circuit internally to the transceiver. By providing improved chirp characteristics in the DML and combining it with a receiver having a built-in EDC capability, the new product offers a low-cost integrated solution for long-distance applications. This combination enables 10Gb/s transmission over 80km using a low-cost DML, and benefits system designers by eliminating an external modulator and wasted board space, says the firm.
In addition to enhanced packaging, another design feature is that EDC is based on the maximum likelihood sequence estimation (MLSE) technique. The EDC circuit has not only an electronic dispersion compensation function, but also a digital signal processing function.
"Sumitomo Electric's DML technology has been tested with the performance of MLSE PHY," says Terry Fujitani, head of SEI's Lightwave Technologies department. "Together, these technologies provide a very compelling value proposition to the optical networking market," he claims.
Sumitomo Electric plans to launch 10Gb/s transceivers such as X2, XFP, and SFP+ using this technology, starting in 2009.
See related items:
Sumitomo Electric sampling coaxial laser for high-bandwidth wireless
Sumitomo Electric launches SFP 6G Series
SEI launches bi-directional modules for FTTH
Search: Sumitomo Electric 10Gb/s transceiver Direct modulation laser diode
Visit: www.sei.co.jp