News
30 September 2008
Nitronex extends 5W GaN-on-Si RF power transistor to 5.1-5.8GHz
To coincide with this week's WiMAX World event in Chicago, Nitronex of Durham, NC, USA, which manufactures gallium nitride on silicon (GaN-on-Si) RF power transistors for the commercial wireless infrastructure, broadband and military markets, says that it has expanded the performance data of its 28V, 5W-class NPTB00004 high-electron-mobility transistor (HEMT), which was launched in November 2007, to include higher frequencies of 5.1-5.2GHz and 5.7-5.8GHz (beyond the 3.5GHz originally detailed).
The NPTB00004 achieves 27dBm (400mW) average output power at 2% error vector magnitude (EVM) in 5.2GHz WiMAX systems, and 28dBm (630mW) average output power at 2% EVM in 5.8GHz WiMAX systems (single-carrier orthogonal frequency-division multiplexing (OFDM), 64-QAM 3/4, 8-burst, 20ms frame, 15ms frame data, 3.5MHz channel bandwidth, peak/average = 10.3dB).
"This data on the NPTB00004 provides our customers with an ideal solution for WiMAX applications in the 5GHz band of operation," claims Ray Crampton, director of marketing. The NPTB00004 is a versatile product that, combined with other broadband devices from Nitronex, allows designers to develop power amplifiers for multiple frequency bands using a common power device lineup, he adds.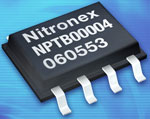 The transistors are packaged in a cost-effective plastic over-molded PO150S (similar to a SOIC-8) package with an exposed thermal pad. Samples and application boards are available. Typical pricing is $9 each in quantities of 1000.
Picture: Nitronex's NPTB00004 HEMT.
See related items:
Nitronex awarded Phase II STTR grant to enhance GaN-on-Si HEMTs
Nitronex and Nujira collaborate on high-efficiency WiMAX PAs
Nitronex and Merrimac to develop highly integrated PAs for wireless infrastructure
Nitronex develops 45W GaN-on-Si HEMT for high-PAR power amplifiers at 2.5 and 3.5GHz
Search: Nitronex GaN GaN HEMT GaN MMIC
Visit: www.nitronex.com