News
20 April 2009
Chapel Hill joins Cree LED City program
The Town of Chapel Hill (home to the University of North Carolina – Chapel Hill) has joined the Cree LED City initiative, an international community of government and industry parties initiated by LED maker Cree Inc of Durham, NC, USA in December 2006 to evaluate, deploy and promote LED lighting for municipal infrastructure. Chapel Hill joins existing program members Raleigh, NC, Ann Arbor, MI, Austin, TX and Anchorage, AK, and Indian Wells, CA in the USA, Toronto and Welland in Canada, Tianjin in China, and Torraca in Italy.
Chapel Hill has installed LED streetlights along the high-profile 100 block of Franklin Street, which is one of the town's most recognizable landmarks. Ten high-pressure sodium street lights have been replaced to evaluate the extension of LED street lighting in Chapel Hill. The town is soliciting feedback from residents about the quality of the lighting during the course of the 12-month pilot program.
"Joining Cree's LED City initiative is an important part of Chapel Hill's commitment to reducing its carbon footprint and becoming a fully sustainable community," said mayor Kevin Foy at a ceremony during Chapel Hill's Earth Action Day 2009. "By replacing low-pressure sodium street lights with LEDs, Chapel Hill can reduce energy consumption for street lighting, which we hope will positively impact our budget as well as our carbon emissions."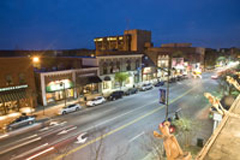 In 2006, Chapel Hill became the first US municipality to commit to a 60% reduction in carbon dioxide emissions (below 2005 levels) by 2050 through the Carbon Reduction Program. The council authorized the pledge to reduce carbon dioxide emissions from town municipal operations on a per capita basis, beginning with an initial goal of 5% by 2010.
See related items:
California's Indian Wells joins LED City program
Welland joins LED City program
Tianjin becomes China's first LED City
Visit: www.ledcity.org
Visit:
www.townofchapelhill.org/greencity