News
26 August 2009
JPSA recruits Tekcore co-founder as director of LED business development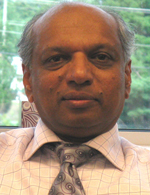 JPSA of Manchester, NH, USA, which makes UV laser-based materials processing workstations for wafer processing and micromachining, says that Nithi M. Nithipalan has joined as director of International Business Development for the LED industry. He will lead JPSA's efforts in marketing, sales and product development, targeted at the high-growth global LED industry.
Picture: Nithi M. Nithipalan.
"His extensive experience in international business and his intimate knowledge of the LED industry is precisely what JPSA needs to guide us as we continue to expand our LED business internationally," says president Charles Cuneo.
Nithipalan has more than 31 years of experience working at international technology companies, including several of the leading manufacturers of LEDs. Most recently, he was CEO & president of Seoul Optodevice Company Ltd in South Korea, a subsidiary of LED maker Seoul Semiconductor Co Ltd. Previously, he was president & CEO of Tekcore Co Ltd in Taiwan, which manufactures high-brightness GaN-based LEDs. Nithipalan co-founded Tekcore and, while there, completed an IPO of the company's stock.
Nithipalan also has a BSc in Civil Engineering degree from the UK's University of Surrey and a post-graduate diploma in Mechanical Systems from University of Alberta, Canada.
See related items:
JPSA introduces dual side scribe (DSS) capability for laser systems
JPSA ships laser-based LED lift-off system to FOREPI

Search: JPSA LEDs Wafer scribing
Visit: www.jpsalaser.com