News
19 January 2009
JPSA ships laser-based LED lift-off system to FOREPI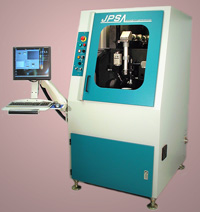 J P Sercel Associates Inc (JPSA) of Manchester, NH, USA, a supplier of UV laser processing workstations, has shipped an IX-260 UV laser LED lift-off (LLO) production system to Taiwan's Formosa Epitaxy Inc (FOREPI), a manufacturer of full-spectrum LED products.
Picture: JPSA's IX-260.
The IX-260 is a flexible, powerful, industrial-grade system designed for high-volume throughput and high-accuracy processing for large field-of-view (LFOV) applications, such as the LED liftoff process. The system is a UV laser workstation used for delamination (lift-off) of the epitaxial layer from the sapphire wafer. This LLO advance dramatically reduces the time and cost of the LED fabrication process, JPSA claims, allowing the packaging of more high-brightness, high-performance vertical LEDs.
The IX-260 provides the ability to greatly enhance the performance and the volume of LEDs produced, claims JPSA's president Charlie Cuneo. "This improvement is also cost effective because it reduces the operating time, allowing our customer to generate more high-performance LEDs in an increasingly demanding market," he adds.
See related items:
FOREPI boosts LED capacity with six more CRIUS reactors
JPSA enters thin-film PV scribing market

Search: JPSA LED lift-off FOREPI LEDs
Visit: www.forepi.com.tw
Visit:
www.jpsalaser.com