News
17 March 2009
JPSA introduces dual side scribe (DSS) capability for laser systems
At this week's SEMICON Shanghai 2009 event in China, JP Sercel Associates Inc (JPSA) of Manchester, NH, USA is introducing new dual side scribe (DSS) processing capability on its laser wafer scribing systems, for performing both front-side and back-side scribing for LED, sapphire, gallium arsenide (GaAs), silicon, and metal wafers (depending on wafer processing requirements).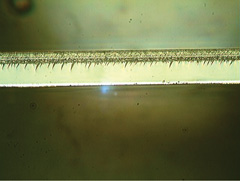 JPSA's proprietary back-side camera technology provides high accuracy with fast alignment times for the DSS systems. The firm has achieved high-throughput back-side scribing at speeds of up to 150mm per second with no debris or damage to the epitaxial layer.
Picture: LED backside scribing: a 30 micron deep scribe in sapphire at 130mm/s, showing the unaffected epi-layer.
The DSS capability is also available as a field upgrade to all existing JPSA scribing systems, such as the IX 210, IX 300 and IX 6100. DSS also allows for easy conversion from front-side to back-side scribing.
"For many years, JPSA has been at the forefront of advanced deep UV front-side laser scribing," claims president Charlie Cuneo. "With our recent advances in back-side scribing, namely a new laser absorption enhancement technique, we are able to offer our customers their choice of highly efficient scribing processes that best meets their production requirements," he adds.
See related items:
JPSA ships laser-based LED lift-off system to FOREPI

Search: JPSA LEDs Wafer scribing GaAs Sapphire
Visit: www.jpsalaser.com