News
28 January 2009
Bookham launches New Focus 200mW high-power laser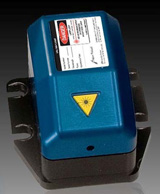 Bookham Inc of San Jose, CA, USA, which manufactures optical components for industrial applications, has supplemented its New Focus SWL-7500 laser portfolio with the high-power SWL-7513-H laser, capable of delivering over 200mW of power in a stable beam that retains the same narrow linewidth and precision as the firm's long-standing 70mW version of the SWL-7513.
Picture: The New Focus SWL-7500 200mW high-power laser.
Demonstrated at this week's Photonics West 2009 show in San Jose, the high-power SWL-7513-H laser is designed to target process Raman spectroscopy and interferometric metrology, where high power, narrow linewidth and long coherence length are crucial, and can address industrial applications such as quality control, chemical analysis, and security. The laser can be produced with a range of wavelengths to meet customer demand, and has been tailored to reach the Raman legacy wavelength of 785nm.
The high-power laser uses gallium arsenide chips fabricated at Bookham's plant in Zurich, Switzerland. The chip design also underpins the firm's market-leading terrestrial and submarine telecom amplifier and pump portfolios, including the 750mW ultra-high-power pump and the OceanBright submarine pump.
The SWL-7513-H opens up new and significant industrial markets for Bookham's New Focus brand, says New Focus product line manager Michael Radunsky. "To be able to leverage the skills, experience and capabilities of the Zurich facility has given the New Focus brand a genuine edge; we are taking some of the world's leading high power chips and combining them with a laser designed for extremely demanding, high-precision applications," he adds. "This project has been an excellent example of vertical integration within Bookham and has extended both the New Focus product offering and the capability of the Bookham high-power chip team in Zurich."
See related items:
Bookham launches 25W multi-emitter fiber-laser pump module
Bookham raises bar laser output to 200W; unveils 60W 30% fill-factor 808nm bar
Bookham reports its first profit following record revenue

Search: Bookham High-power laser GaAs
Visit: www.newfocus.com