News
26 January 2009
Intense broadens range of mil-spec QCW bars and stacked arrays
At this week's Photonics West 2009 show in San Jose, CA, USA, Intense Ltd of Glasgow, Scotland, UK, a provider of single- and multi-mode monolithic laser array products and high-power laser diodes, has launched an expanded range of high-power QCW (quasi-continuous wave) bars and stacked array products.
The new Hermes stacked array product line now includes higher-power (1200-2000W) QCW products, qualified to military standards. Also, new, passively mounted QCW bars provide power levels of more than 300W.
All Hermes bar and stacked array products use Intense's patented quantum well intermixing (QWI) technology, enhancing device reliability, the firm claims.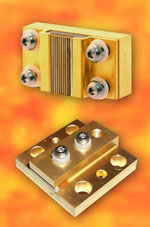 "The bar and stack market is demanding higher power and improved efficiency levels," says Kevin Laughlin, VP of global sales & business development. "The expansion of Intense's QCW product line delivers these benefits to its customers across print, defense, industrial and medical sectors," he claims.
In addition to increased powers and reliability, Intense is launching a new 'H'-style mounted bar designed specifically for high-power, high-efficiency rod pumping applications. The 'H' mount can be used in its standard configuration or it can be lensed using either a slow or fast axis collimator lens, depending on customer requirements.
"As flash lamp pumped sources come under greater pressure and scrutiny, the new 'H' mount pump diode assembly offers a very cost-effective solution for laser system manufacturers, enabling them to benefit from diode pumping solutions," says Laughlin.
Intense says that the product launches bring new solutions to defense and other mobile applications where reliability and performance in harsh environments and operating conditions are essential.
The entire Hermes family is available in a range of wavelengths suitable for direct diode pumping, illumination and direct material processing applications. The bars and stacked arrays are available in standard 'G', 'CS' or 'H' mounts. Custom configurations, mounts and multi-color stacks are also available on request.
Intense says that it also has the capability to provide bars and stacked arrays with a variety of macro- and micro-lenses as well as to integrate drive electronics into higher-level diode modules or packs.
See related items:
Intense launches high-power, 905nm short-pulsed laser in rugged package
Intense launches high-power 808nm single-mode diodes for green laser pumping
Visit: www.intenseco.com