News
29 January 2009
Nitronex launches industry's first 200W GaN HEMT power transistor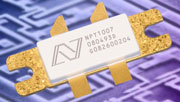 Nitronex of Durham, NC, USA, which makes gallium nitride on silicon (GaN-on-Si) RF power transistors for the commercial wireless infrastructure, broadband and military markets, has launched the NPT1007 for applications up to 1.2GHz.
The device consists of two power transistors, of 100W each, in an industry-standard four-lead Gemini package. The small footprint allows easy combination of both transistors into a compact high-power amplifier. After combining losses, the device achieves 200W at 63% efficiency with 18.3dB of gain at 900MHz. The NPT1007 is robust to an output mismatch of 10:1 while in saturation.
"The NPT1007 was developed while working with leading power amplifier designers who needed a smaller, more efficient solution than was available on the market to date," says director of marketing Ray Crampton. "The NPT1007 has high gain and efficiency performance from 14-28V, allowing designers to co-optimize power, thermal rise, efficiency and linearity," he adds. "Success with early customers has confirmed that the NPT1007 offers a compelling solution across this voltage range."
The NPT1007 is available in a thermally enhanced ceramic air-cavity bolt-down package, and is lead-free and RoHS compliant.
See related items:
Nitronex extends 5W GaN-on-Si RF power transistor to 5.1-5.8GHz
Nitronex awarded Phase II STTR grant to enhance GaN-on-Si HEMTs
Nitronex and Nujira collaborate on high-efficiency WiMAX PAs
Nitronex and Merrimac to develop highly integrated PAs for wireless infrastructure

Search: Nitronex GaN GaN-on-Si RF power transistors
Visit: www.nitronex.com