News
27 April 2010
Osram inaugurates its first LED chip fab in Asia
After breaking ground on construction in July 2007, Osram Opto Semiconductors GmbH of Regensburg, Germany has held a formal inauguration ceremony in Penang, Malaysia for its first LED chip fabrication plant in Asia.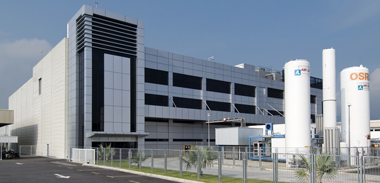 Picture: Osram's new LED chip plant in Penang.
The ceremony was attended by CEO Dr Ruediger Mueller, parent firm Osram GmbH's CEO Martin Goetzeler, Penang's Chief Minister Y.A.B. Tuan Lim Guan Eng, and Malaysia's Minister of International Trade and Industry Y.B. Dato' Sri Mustapa Mohamed. Installation work was completed and the test phase concluded at the fab last December, enabling the start of production.
In addition to cost, Mueller highlights the talented and experienced workforce as being in Penang's favor when it came to choosing the site for the new facility. "It was also the long-term partnership with the Malaysian authorities that made it the top choice: after all, we have operated in Penang for over 30 years," he adds. The Malaysian facility in Penang's Bayan Lepas Free Industrial Zone already hosted LED chip packaging, employing about 2600 of Osram Opto Semiconductors' total worldwide workforce of 4400 (as of end-September 2009).
Covering 35,000m2 and creating about 250 new jobs, the new plant is Osram Opto's second LED chip fab (after Regensburg, which was expanded in 2008) — making it the first LED maker with high-volume chip production facilities in both Europe and Asia — and doubles the firm's chip production capacity. It will produce indium gallium nitride (InGaN) blue, green and white LED chips on 4-inch wafers. Osram says that the new production capacity enables it to respond flexibly to the demand for LEDs at competitive prices, as the market has begun to pick up again steeply.
Analysts forecast a threefold rise in the market for LEDs and organic LEDs (OLEDs) to almost €13bn by 2012. Osram says that these technologies offer small size, long lifetime and high energy efficiency, opening up new applications and markets. Already, 17% of Osram's total revenue comes from solid-state lighting. "In connection with classic technologies, our LED portfolio of products, systems and solutions will raise energy-saving potential for lighting up to 60%," says Goetzeler. "The list of LED applications keeps on expanding: architectural lighting, backlight displays, mobile terminal devices, solid-state lighting, automotive lighting and many more to come," he adds. "We already see projectors being lit up by LEDs, advertising boards being replaced by LED display video walls, and cars illuminating the streets with LED headlights."
See related items:
Osram's second LED chip plant starts production
Osram breaks ground on Malaysia LED chip fab
Osram Opto expanding with new LED chip fab in Malaysia

Search: Osram Opto LEDs
Visit: www.osram-os.com