News
17 July 2007
Osram breaks ground on Malaysia LED chip fab
Germany's Osram Opto Semiconductors GmbH (the world's second biggest LED maker, and the biggest in Europe) has broken ground on construction of its new LED chip fabrication plant in Penang, Malaysia (announced in May) in a joint ceremony performed by CEO Dr Rüdiger Müller and Tan Sri Dr Koh Tsu Koon, chief minister of Penang, Malaysia.
With total investment ultimately "in the high double figures of millions of euros" and a floor area of more than 30,000m2 to serve the booming LED market, Osram Opto expects the new LED chip fab to be open by spring 2009 and to be the most advanced in the world.
The Penang fab will manufacture nitride-based LED chips, supplementing Osram Opto's existing LED chip fab at its headquarters in Regensburg, Germany (which is also being expanded simultaneously, to be completed by the end of 2007 ).
In addition, the capacity of the existing LED assembly line in Penang (which started operation in 1972) is being increased by more than 50%. This will lead to the creation of over 800 new jobs in the long term, bringing the total to more than 3000 (making Osram one of the largest employers in the northern region of Malaysia).
"Today marks the beginning of a new era in more than 30 years of cooperation between Osram and Penang," said Müller. "We are delighted to be further strengthening our partnership today at this groundbreaking ceremony and to be embarking on a new chapter," he added. "In constructing this LED chip factory here in Penang, Osram is for the first time exporting central strategic technology know-how to another market outside its home country of Germany. This is only possible because our many years of cooperation have meant that we have the utmost trust in the quality, motivation and skills of the local workforce and authorities."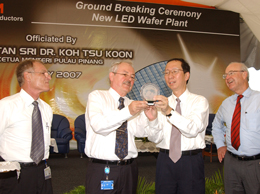 Müller concludes, "Regensburg will continue to be our main site, where we will concentrate our know-how and benefit from having our research and development facilities so close to our production line."
Picture (above): Osram's groundbreaking ceremony: (from left to right) Osram Opto Semiconductors Penang's managing director Werner Gelner; Osram Opto Semiconductors' CEO Dr Rüdiger Müller; Penang/Malaysia chief minister Tan Sri Dr Koh Tsu Koon; and Herbert Jess, the German ambassador to Malaysia.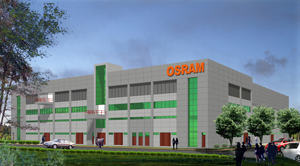 Picture (right): Model of Osram Opto's new
LED chip fab in Penang, Malaysia.

See related items:
Osram doubles OSTAR Headlamp LED brightness to 620 lumens
Osram demonstrates brighter red and green LED chips
Osram Opto launches smallest cw high-power laser
Osram introduces general-purpose white LED to its Golden Dragon ARGUS range
Osram sampling 1000lm OSTAR LED for general lighting
Osram Opto expanding with new LED chip fab in Malaysia
Visit: http://www.osram-os.com