News
19 June 2007
Osram Opto launches smallest cw high-power laser
At this week's Laser 2007 event in Munich, Germany, Osram Opto Semiconductors GmbH of Regensburg, Germany is introducing what it claims is the world's smallest and first surface-mountable (SMT) high-power laser for continuous wave (cw) mode operation.
With a compact footprint of just 6.0mm x 4.5mm and a thermal resistance of 2.5K/W, the laser yields an output of up to 6W and emits light at a wavelength of 810nm through a prism that directs the light upwards, allowing the laser to be placed in any location on a circuit board (an improvement from being restricted to the edge). Also, the good thermal conductivity of its base allows the unit to be soldered directly onto a metal core board, so that heat loss is minimized.
With operating temperatures ranging from -40 to +100 degrees C in a dustproof, powerful and cost-effective package, the new laser is capable of withstanding harsh ambient conditions, and is suited to applications in the industrial, automotive and the medical sectors, where robust and technologically advanced products are increasingly in demand, says Ellen Sizemore, director, LED/IR marketing for Osram Opto Semiconductors Inc of San Jose, CA, USA.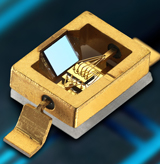 Picture: Osram's surface-mountable high-power laser for cw mode operation. (Photo: Business Wire)

The new laser's SMT capabilities, as well as its compatibility with up-to-date production processes such as reflow soldering, render it suitable for volume applications such as night vision systems, closed-circuit television, traffic monitoring and medical applications such as hair removal.
Additional versions in wavelengths of 940-980nm are in development.
See related items:
Bookham claims record power-to-size ratio for VHB laser diode bar
Osram Opto Semiconductors signs-up Laser Components as regional distributor of high-power laser diode products
Laser 2000 to distribute Intense's lasers in Europe
Osram adds water-cooled vertical laser stacks and laser bars to high-power laser range
JDSU extends fiber-coupled diode laser range to 8W; launches commercial laser with telecom-based architecture
Bookham shows expanded VCSEL and high-power laser diode ranges at Photonics West
Visit: http://www.OSRAM-os.com