News
26 April 2010
Genesis Photonics orders Veeco MOCVD systems
Epitaxial deposition, process, and metrology equipment maker Veeco Instruments Inc of Plainview NY, USA says that in first-quarter 2010 it received orders for multiple TurboDisc K465i gallium nitride (GaN) metal-organic chemical vapor deposition (MOCVD) systems from Genesis Photonics Inc (GPI) of Southern Taiwan Science-Base Industrial Park (TNSIP).
Founded in 2002, GPI focuses on providing of GaN-based LED epiwafers and chips for lighting, display, backlight, and automotive lamp applications, as well as powerful LED chips for scientific, industrial and research applications. GPI will use the new MOCVD systems to ramp up its production capacity, driven by the increasing demand for high-brightness LEDs (HB-LEDs).
"We have been very pleased with the production-proven performance of Veeco's MOCVD systems already installed in our manufacturing facility," notes GPI's chairman & CEO David Chung. "They are helping us to achieve brightness higher than the industry average," he adds.
"The K465i gives GPI the technology to surpass their LED brightness roadmap objectives, and also provides the industry's lowest cost of ownership, high productivity and best-in-class yields," comments Bill Miller, senior VP & general manager of Veeco's MOCVD Operations.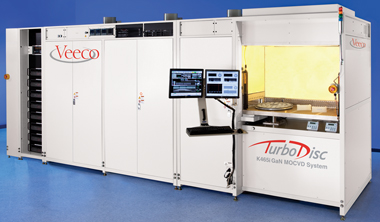 Picture: Veeco's TurboDisc K465i MOCVD system.
With what is reckoned to be superior wavelength uniformity and run-to-run repeatability, Veeco says that the production-proven K465i extends its capital efficiency (the number of good wafers per day for each capital dollar) for high-volume LED makers. The K465i provides ease-of-tuning for fast process optimization on wafer sizes up to 8 inches and fast tool recovery time after maintenance, the firm adds.
See related items:
LED chip-makers Epistar, Formosa and Genesis report strong year on year revenue growth
Veeco launches TurboDisc K465i GaN MOCVD system

Search: Veeco TurboDisc K465i GaN MOCVD Genesis Photonics
Visit: www.g-photonics.com
Visit: www.veeco.com