News
8 February 2010
Veeco's MOCVD revenue more than doubles sequentially
For full-year 2009, epitaxial deposition, process, and metrology equipment maker Veeco Instruments Inc of Plainview NY, USA has reported revenue of $380.1m, down 14% on 2008's $442.8m. However, this was due to Data Storage process equipment revenue almost halving and Metrology revenue falling 20%, while LED & Solar process equipment revenues rose 24% (from $165.8m a year ago to $205m) despite the economic downturn.
In particular, fourth-quarter 2009 revenue was a record $146m, up 48% on Q3's $98.9m and up 33% on $110.3m a year ago. Of this, LED & Solar revenues were a record $98m, up 85% on Q3's $53m (as MOCVD revenue more than doubled sequentially) and up on $37.6m a year ago. Meanwhile, Data Storage process equipment revenue was $21m, down slightly from Q3's $21.5m and less than half the $45m a year ago. Metrology revenue was $27.2m, up 13% on Q3's $24m but down slightly from $27.7m a year ago.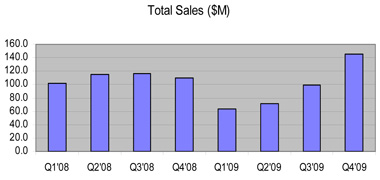 For all three business segments, gross margin improved sequentially, boosting overall gross margin from 41.4% to 45% (ahead of the 43–44% guidance). Q4 operating income was $20.5m, up on just $3.5m in Q3 and a loss of $4m a year ago (in addition to an asset impairment charge of $73m). Non-GAAP earnings before interest, income taxes and amortization (EBITA) for LED & Solar was $27m. Offset slightly by corporate losses, overall non-GAAP EBITA were $25.1m, up on $8.9m in Q3 and $8m a year ago.
During the quarter, Veeco generated $37m in cash from operations, helping to boost cash balance from $109.4m to $148.6m.
In Q4/2009, orders were $262.2m, up 16% on Q3's record $226m and nearly triple the $88.5m of a year ago. This boosted full-year 2009 orders to $639.5m (up 50% on 2008's $424m), including LED & Solar orders of $440.8m (up 175% on $160.2m a year ago).
"We continued to see strong MOCVD demand as LED manufacturers ramp production for laptop and TV backlighting as well as general illumination," says CEO John R. Peeler. While Q4 Data Storage orders more than tripled sequentially to $53m and Metrology orders of $32m were the best for six quarters, LED & Solar orders (though roughly level on Q3's $179.2m) have more than quadrupled from $43.6m a year ago to $177m, with 16 LED makers placing orders for TurboDisc MOCVD systems. "It is particularly gratifying to end 2009 with such strong bookings levels in all three Veeco businesses," Peeler emphasizes.
At the end of December, order backlog was a record $402m (including $317m for LED & Solar). "Veeco begins 2010 with unprecedented momentum," comments Peeler. "Business patterns in LED remain very strong in the first quarter, similar to what we experienced in the latter half of 2009, with multi-tool system orders being quoted to a large number of customers," he adds. "Leading global LED manufacturers are showing strong interest in our newly introduced TurboDisc K465i GaN MOCVD system." Veeco is increasing manufacturing capacity to meet demand, ramping up to 45 or more tools in Q1/2010 and about 70 by Q2, while putting plans in place to reach a capacity of 120 tools by Q4/2010 (according to market requirements). "Our highest priority is to satisfy our customers with on-time deliveries," Peeler says.
For first-quarter 2010, Veeco expects revenue to rise to $150–165m, operating income to rise to $23.7–29m, and EBITA to rise to $27.6–33m. Veeco also expects all three of its business segments to grow revenue and profit for full-year 2010.
See related items:
LED backlighting drives Veeco's return to profit
Veeco orders double on booming MOCVD system demand
Veeco's revenues fall 43% after pause in bookings
Despite record MBE orders for solar, Veeco expects 36-46% sales dip in Q1

Search: Veeco
Visit: www.veeco.com