News
27 January 2010
Aixtron investing €40m to expand to new R&D facilities
Aixtron AG of Aachen-Herzogenrath, Germany has announced what it describes as an important step in the implementation of its accelerated research and development strategy by building a new R&D campus at its premises in Herzogenrath-Kohlscheid.
The new facility will be able to host up to 350 engineers at the end of phase 1, significantly increasing the laboratory resources and prototype capabilities used to develop next-generation material deposition manufacturing systems. To fully develop the new modular facilities (which will use a renewable energy design to minimize carbon footprint), Aixtron plans to invest up to €40m over the next 2–3 years.
Aixtron says that it will continue to focus the principal manufacturing of standard deposition equipment at its nearby main facilities in Herzogenrath, Kaiserstraße, supported by the engineering and assembly locations in Cambridge, UK and Sunnyvale, CA, USA.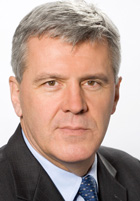 "This is a vitally important next step in the implementation of our product development strategy, and the accelerated timing reflects the recent increase in volume and momentum we have seen in the markets we serve," says CEO Paul Hyland. "It also underlines our commitment to deliver continuous improvement to the productivity of our products."
Picture: Aixtron CEO, Paul Hyland.
Regarding near-term objectives, the requirement to meet the improved performance and reduced cost of ownership objectives necessary to support the needs of the emerging LED general lighting market will require significant focus and commitment, believes the firm. "The new facility will further increase our ability to be able to deliver both of these requirements," says Hyland. "As we go into a very exciting period of innovation and growth, it is our firm intention to step up a gear to maintain our position," he adds.
See related items:
HB LED demand to grow 61% in 2010, outstripping supply
HB-LEDs to drive doubling of MOCVD sales to 415 systems in 2011
Aixtron's 45% quarterly growth driven by TV backlighting

Search: Aixtron MOCVD LED market
Visit: www.aixtron.com