News
29 July 2010
Nitronex launches thermally enhanced 25W GaN transistor for military applications
Nitronex Corp of Durham, NC, USA, which designs and makes gallium nitride on silicon (GaN-on-Si) RF power transistors for the defense, communications, and industrial & scientific markets, has launched the NPT1012, a thermally enhanced 25W device for applications from DC to 4GHz.
The NPT1012 is the first transistor to be released as part of Nitronex's second-generation platform, which was developed to meet growing demand for wideband, high-power and robust RF power amplifiers required by the military communications, jammers and radar market segments.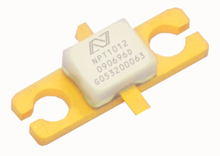 "The new NPT1012 25W GaN power transistor has been designed specifically to improve broadband power performance by addressing thermal management," says VP of sales & marketing Gary Blackington. "Designers can use the NPT1012 transistor to develop compact, multi-octave power amplifiers that simultaneously meet RF and thermal requirements," he adds. "The NPT1012 will be well suited for applications that require wide bandwidth, high efficiency and low thermal resistance." Blackington explains that the device is the firm's second-generation 25W discrete GaN RF transistor, which has a track record of being used in advanced tactical radios.
"Thermal optimization requires attacking the problem from every angle," says VP of engineering Ray Crampton. "We made improvements in the full thermal stack from the die itself to packaging and assembly," he adds. "With these enhancements, we achieved a 25% reduction in thermal rise in our customers' applications."
The NPT1012 provides more than 20W of output power and over 50% drain efficiency in a broadband application circuit across 1–2.5GHz. It is available in a thermally enhanced air-cavity bolt-down package, is lead-free and RoHS compliant.
See related items:
Nitronex releases GaN MMIC process design kit for Agilent's Advanced Design System
Nitronex and Modelithics release enhanced non-linear GaN device model

Search: Nitronex GaN HEMT GaN-on-Si
Visit: www.nitronex.com