4 August 2014
Veeco's first-half 2014 MOCVD orders up 80% year-on-year
For the second-quarter 2014, epitaxial deposition and process equipment maker Veeco Instruments Inc of Plainview, NY, USA has reported revenue of $95.1m, up 5% on $90.8m last quarter but down 2.5% on $97.4m a year ago.
Data Storage revenue has fallen by 16% on $21.5m a year ago and 10% on $20m last quarter to $18m (just 19% of sales). However, growth was driven by LED & Solar revenue up 1.6% on $76m a year ago and 8.8% on $70.8m last quarter to $77.2m (81% of sales). In particular, molecular beam epitaxy (MBE) revenue was $10m, up on $6.8m last quarter. Metal-organic chemical vapor deposition (MOCVD) revenue rose by 4.7% from $64m last quarter to $67m. First-half 2014 MOCVD revenue was up 30% year-on-year.
Q2 gross margin of 32% was on the high-end of the 30-32% guidance but, reflecting the tough pricing environment in the MOCVD business, it was weaker than last quarter's 37% (which was unusually high due to the inclusion of certain high-margin tools in the mix).
"Q2 performance was also impacted by higher operating expenses [$46.6m, up from $41m both last quarter and a year ago], as we rolled in some temporary, duplicative spending, tied to our site consolidation activities," says chief financial officer Shubham Maheshwari. "R&D in Q2 was high [up from $19.8m in Q1 to $21m], due to the spending on next-generation products."
Net loss was $6.1m ($0.16 per share), up from $2.4m ($0.06 per share) last quarter and $1.3m ($0.03 per share) a year ago but at the low end of the guidance range of $9.2-5.6m ($0.23-0.14 per share). Adjusted earnings before interest, taxes, depreciation and amortization (EBITDA) loss was $7m, up from $2.2m a year ago. During the quarter, cash balance rose by $2m from $483mto $485m.
For the third consecutive quarter, Veeco's book-to-bill ratio was over 1. Orders have risen from $84.8m a year ago and $102.6m last quarter to $104m. In particular, Data Storage orders were $23.4m (22% of total orders), up on the trough of just $15.4m last quarter but still down 12% on $26.7m a year ago. LED & Solar orders were $80.7m (78% of total orders), down on $87.1m last quarter but still up 39% on $58m a year ago. Of this, MBE orders were $6m (level with a year ago but up from $5m last quarter) and MOCVD orders were $75m (down 10% on last quarter but up 44% on $52m a year ago).
"We do not see the slight MOCVD decline [sequentially] as a reversal of positive trends," says Maheshwari. "It is more reflective of the fluctuations in this business and the few large deals that are being worked every quarter," he adds. "Large orders from a small number of customers are causing orders to bounce around on a quarter-to-quarter basis," notes chairman & CEO John R. Peeler. "But the order trend, over the last 6 quarters, is very strong, including the following factors: the trend line from Q1 of 2013 onward shows a 50% compound annual growth rate; first-half MOCVD orders are up nearly 80% from the first half of last year [$157m versus $88m]; we expect Q3 orders to be higher than Q2 orders; and finally, we're forecasting second-half orders above first-half orders… the MOCVD business recovery is well underway," he adds.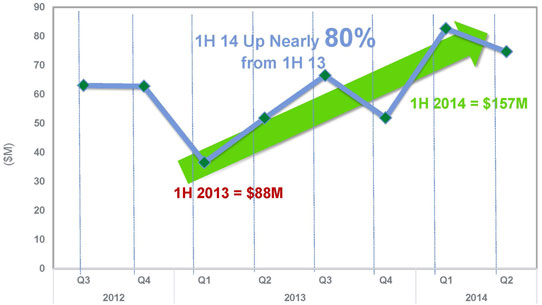 Graphic: Veeco's MOCVD order trend.
"We continue to see positive trends in the LED market, including strong LED chip demand, very high LED fab utilization rates and solid customer quoting activity," says Peeler. "We had several significant wins during the quarter from LED customers in China and Korea who selected Veeco MOCVD equipment for their capacity expansions." Customer wins this quarter included large multi-unit deals from Changelight in China, and a top LED manufacturer in Korea (where Veeco is seeing utilization rates of 85% or better, improved customer financials, and meaningful pickup in activity, driven by demand for LEDs for ultra-high-definition TVs, which use twice as many LEDs as traditional LED TVs and require more stringent chip performance). "In the case of Changelight, we beat our competitor, the incumbent supplier, by having more productive systems with a lower total cost of ownership," says Peeler.
For third-quarter 2014, Veeco expects revenue of $92-100m. Although bookings have been more than $100m for the last two quarters, the midpoint of this revenue guidance is just $96m. "One of our customers, just last week, pushed out shipments from September into Q4, due to temporary funding delays on their part," says Maheshwari. "This causes Q3 revenue guidance lighter than the normal expectations, and we expect to see corresponding pickup in Q4 revenues."
Q3 gross margin is expected to be 31.5-33.5%, flat on Q2 because of a few low-margin tools that were booked previously now flowing through. "We are experiencing slightly better pricing environment on the orders we are booking currently," notes Maheshwari.
Operating expenses should fall back to $41-42m. Cost-reduction activities will have a modest impact, but pick up speed exiting 2014, says Maheshwari.
Excluding the impact of a planned $2.6m restructuring charge related to the company's business and facility streamlining activities, non-GAAP net loss is expected to be $2.9-6.1m ($0.07-0.15 per share). Adjusted EBITDA loss should be $0.2-3.7m.
"Business conditions in MOCVD have improved. However, we have seen limited improvement in our other businesses," says Maheshwari. "We have been working to streamline our operations in order to simplify the company, reduce expenses, and enable a continued high level of R&D investments in growth opportunities, including LED and organic LED," he adds. "We are in the process of consolidating our Data Storage business from three sites to our main site here in Plainview… We are streamlining sales & service facilities and reducing corporate overhead." These activities are phasing in through the year. "As a result we expect that, as we exit 2014, our overall OpEx would decline by about 10% [to $38-39m], and we can achieve an EBITDA breakeven level below $100m in [quarterly] revenue," says Maheshwari.
Veeco expects gross margin to stay in the low- to mid-30s for the remainder of 2014. However, Maheshwari believes that gross margin can bet get back to over 40% as Veeco sees new products, a pickup in business volume, and manufacturing cost reductions benefiting the firm in 2015.
"We remain focused on delivering improved results by: (1) developing and launching game-changing new products that enable cost-effective LED lighting, flexible OLED display encapsulation and other emerging technologies; (2) improving customer cost of ownership as well as our gross margins; (3) driving process improvement initiatives to make us more efficient; and (4) lowering expenses," says Peeler. "It is our goal to get the company back to double-digit adjusted EBITDA profitability by 2015 through a combination of improved business conditions, execution on our growth initiatives, a more streamlined Veeco, and lower operating expenses," he adds.
Veeco's revenue rises 24% in Q1, driven by MOCVD recovery
Veeco's Q4 revenue falls by a third year-on-year
Veeco's Q3 revenue flat sequentially, down 25% year-on-year
Veeco's orders rebound by 21% to $85m in Q2, driven by MOCVD orders rising 40%
Challenged Veeco sees MOCVD orders fall 42% in Q1
Visit: www.veeco.com