18 February 2015
Veeco's Q4 MOCVD revenue up 55% year-on-year while orders almost triple
Epitaxial deposition and process equipment maker Veeco Instruments Inc of Plainview, NY, USA has reported revenue for full-year 2014 of $392.9m, up 18% on $331.7m in 2013.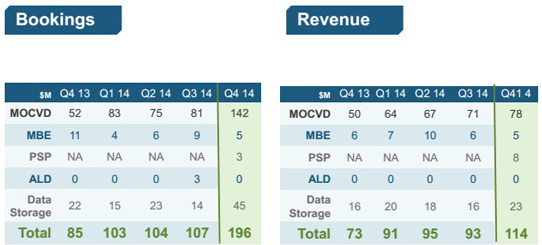 Fourth-quarter 2014 revenue was $113.6m, up 22% on $93.3m last quarter and 55% on $73.2m a year ago (near the top end of the $100-115m guidance range, and the first quarter above $100m in two years). Growth has been driven by metal-organic chemical vapor deposition (MOCVD) and Data Storage products.
Data Storage revenue was $23m (20% of total revenue), up 44% on $16m both last quarter and a year ago.  
MOCVD revenue was $78m, up 9.9% on $71m last quarter and up 56% on $50m a year ago. However, molecular beam epitaxy (MBE) revenue was $5m, down 17% on $6m both last quarter and a year ago (although Veeco reckons that its GENxplor system gained market share).
Q4 also included 3 weeks of revenue ($8m) from Solid State Equipment Holdings LLC (SSEC) of Horsham, PA, USA (now called Veeco Precision Surface Processing, or PSP, after being acquired in early December for $150m), which manufactures single-wafer wet etch, clean and surface preparation equipment targeting high-growth segments in advanced packaging, micro-electro-mechanical systems (MEMS) and compound semiconductors.
On a non-GAAP basis, gross margin has risen further, from just 22% a year ago and 35.5% last quarter to 38.5%, due to the increased volume in MOCVD and Data Storage products as well as the addition of PSP to the portfolio. Full-year gross margin has risen from 31.5% to 36.3% (above the forecasted 34-36%). 
Despite adding expenses from PSP, operating expenditure (OpEx) has risen only slightly, from $37.8m last quarter to $38.1m, and fallen as a proportion of revenue from 40.5% to 33.6% (as well as being down from $48m a year ago).
"We developed differentiated new products, lowered operating expenses and improved gross margins," notes chairman & CEO John R. Peeler. "Veeco achieved significant milestones during 2014 as part of the transition back to growth and profitability," he adds.
Net income was $5.1m ($0.13 per share), compared with a loss of $0.76m ($0.02 per share) last quarter and $16.4m ($0.42 per share) a year ago. Full-year net loss was cut from $28.1m ($0.72 per share) in 2013 to $4.1m ($0.10 per share) in 2014.
Compared with losses of $23.3m a year ago and $1.8m last quarter, in fourth-quarter 2014 Veeco returned to profitability in adjusted earnings before interest, taxes, depreciation and amortization (EBITDA), at $8.3m (exceeding the guidance of $1.7-6.7m, aided by the addition of PSP). Full-year adjusted EBITDA has also turned positive, at $2.6m, compared with a loss of $36.7m in 2013.
Despite generating $49m in cash flow from operations during the quarter, cash & short-term investments fell from $487m to $391.4m. However, this was largely due to $145m of cash being used in early December to complete the acquisition of Solid State Equipment LLC. What is now Veeco PSP should "improve access to high-growth markets through complementary technology that will drive increased sales and profitability," says Peeler.
Full-year order bookings have risen by 53.8%, from $331.6m to $510m. In Q4/2014, bookings totaled $196m, up 80% on $107m last quarter and 130% on $85m a year ago (and the highest quarterly level since 2011). In particular, Data Storage bookings were $45m, more than tripling from $14m last quarter and doubling from $21.6m a year ago (also the highest since 2011), as customers invested in both capacity and technology. MBE bookings were $5m, down on $9m last quarter and $11m a year ago. However, MOCVD bookings were $142m, up 75% on $81m last quarter and almost tripling from $52m a year ago, due primarily to orders for the next-generation EPIK700 MOCVD system (mostly Sanan's order for 25 two-reactor EPIK systems). PSP's bookings were $3m. Order backlog at the end of Q4/2014 was $287m (including nearly $200m for MOCVD, plus $28m added from PSP).
During Q4/2014, Veeco successfully demonstrated its FAST-ALD (atomic layer deposition) technology for flexible organic light-emitting diode (OLED) encapsulation at a key customer. However, at the same time, the incumbent deposition technology has progressed to satisfy the current market requirements, and Veeco has not received any sizable orders for OLED encapsulation tools. While this opportunity "may not be permanently off the table", the firm has hence lowered the near-term revenue forecasts for its ALD technology and taken a non-cash asset impairment charge (goodwill, intangibles and property, plant and equipment) of $55m in Q4. Veeco has also decided to lower its spending rate in ALD, refocus R&D efforts on semiconductor and other applications, and continue to monitor the flexible OLED market opportunity.
Veeco has begun shipping its new EPIK700 MOCVD system (including two systems that received beta signoff during Q4). The new system is said to improve LED customers' productivity and yield and to lower their total cost of ownership. The firm expects to ship, bill and invoice over $25m of EPIK700 systems in first-quarter 2015. However, as is standard practice with new product introductions (as required by accounting rules), Veeco will wait until initial production shipments are installed and final-accepted by customers before the systems are largely recognized as deferred revenue on the balance sheet.
As a result, for first-quarter 2015 Veeco expects revenue to dip to $92-100m. Gross margin should fall slightly to 36-38%. Operating expenditure should be steady at $37-39m. Adjusted EBITDA is expected to remain positive, at $0-2m. Loss per share should be $0.13-0.07. Chief financial officer Sam Maheshwari notes that, if Veeco had been able to take revenue on EPIK700 systems upon shipment, its Q1 revenue guidance would show growth to $120-130m, and the firm would be solidly profitable on an adjusted EBITDA basis.
Following the dip in Q1/2015, revenue is expected to be much higher in Q2 and Q3. For full-year 2015, Veeco is targeting gross margin of more than 40% (aided by about $65m in revenue from PSP, which should be accretive to both gross and operating margins). The firm expects EBITDA profitability in each quarter, with profitability increasing through the year. 
Veeco plans to reduce spending in ALD by $4m on an annualized basis (incurring a restructuring charge of about $1m). Despite this, due to revenue growth, quarterly OpEx should rise after Q1 to $40-42m.
"I am highly confident that 2015 will be another year of improved performance for Veeco [targeting over 30% growth, or about 20% excluding PSP], fueled by great new products targeted at growth opportunities in LED, power electronics and mobile devices," says Peeler. "We have a strong team focused on keeping our organization streamlined and improving both gross margin and bottom-line performance."
Veeco cuts losses, but growth in MOCVD revenue offset by MBE and Data Storage
Veeco's first-half 2014 MOCVD orders up 80% year-on-year
Veeco's revenue rises 24% in Q1, driven by MOCVD recovery
Veeco's Q4 revenue falls by a third year-on-year
Tags: Veeco MOCVD MBE ALD Wet processing
Visit: www.veeco.com