7 May 2015
Aixtron improves earnings despite revenue drop while new MOCVD system undergoes qualification
For first-quarter 2015, deposition equipment maker Aixtron SE of Herzogenrath, near Aachen, Germany has reported revenue of €40.3m, down 8% on €43.9m a year ago and 31% on last quarter's €58m. This is "a reflection of the ongoing positioning process of the AIX R6", which is the firm's latest metal-organic chemical vapor deposition (MOCVD) system (currently going through a learning curve and a qualification process with each customer).
Of total revenue, 72% (€29.1m) came from equipment sales and 28% (€11.2m) from spare parts & services (roughly in line with the expect 75%/25% split). Of equipment revenue, by end application, LEDs comprised 49%, silicon 34%, power electronics 9%, and optoelectronics 4%. By region, 82% of total revenue came from Asia, 13% from Europe, and 5% from the Americas.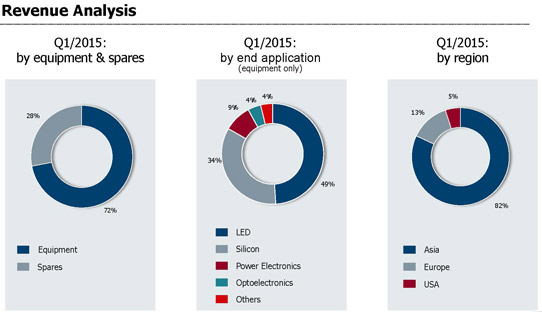 Although still slightly below 23% a year ago, gross margin has recovered further, from 18% last quarter to 22%. Operating expenses fell to €17.6m, down on €20.9m a year ago and €29.3m last quarter, due to lower R&D expenses and positive currency exchange effects.
EBITDA (earnings before interest, tax, depreciation and amortization) has improved from -€7.1m a year ago and been more than halved from -€13.9m last quarter to -€6.4m.
On 1 April, Aixtron acquired PlasmaSi Inc of Fremont, CA, USA - which provides low-temperature silicon nitride plasma-enhanced chemical vapor deposition (PECVD) systems for the encapsulation of organic thin-films in OLEDS - for $16m in cash. Excluding -€1.5m for short-term loans prior to this acquisition, operating cash flow was -€8.6m. Capital expenditure (CapEx) was €3.5m, down slightly from €4m last quarter. Free cash flow was -€12.1m, an improvement on -€13.8m a year ago. Cash and cash equivalents were €263.2m at the end of March, down €4.9m from €268.1m last quarter and down €28.8m from a year ago. The difference from the free cash flow mainly results from the currency difference of the dollar-based cash and cash equivalents.
"We must continue to focus on the implementation of our 5-Point Program," says president & CEO Martin Goetzeler. Within the framework of the second stage of the 5-Point-Program, Aixtron has changed its organizational structure in line with changing customer and market requirements. "We are continuing to streamline our operations, and in the first quarter we initiated a reduction of our workforce by approximately 60 people," notes Goetzeler.  
Alongside cost-cutting measures, Aixtron is continuing to pursue new market opportunities, for example with its new AIX R6 MOCVD product generation and in promising future business fields such as power and logic semiconductors as well as OLEDs.
For the first time, order intake and revenues were influenced by the large multi-tool order from a Chinese LED manufacturer for 50 AIX R6 Showerhead MOCVD tools received last September (since a large portion of this order will be booked in the course of 2015). However, reflecting the cautious market demand, equipment order intake (including spares and services) was merely stable at €48.9m, similar to €49.3m last quarter and €49.5m a year ago. Nevertheless, equipment order backlog was €79m at end-March, up 23% on €64.2m a year ago and up 21% on €65.2m at end-December 2014 (and the strongest backlog since Q3/2013), due largely to the increase in inventory and related advanced payments from customers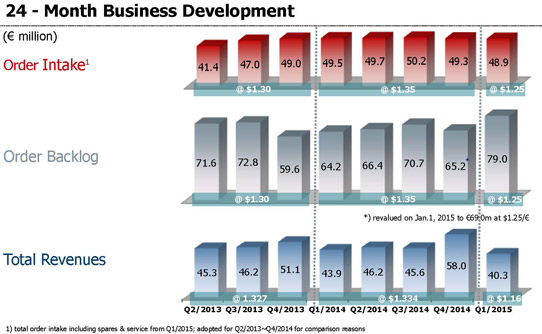 "Currently, we have contracts with seven LED manufacturers that are assuring themselves of the performance of our next-generation system," says Goetzeler. "Due to the increasing utilization rates, we expect a positive development for the demand in production systems… The fact that we are on the right track in this area is demonstrated by the improvement of our performance indicators and progress towards the targeted expansion of our product and technology portfolio," he adds.
"We have successfully expanded the technology portfolio in the field of OLED by the acquisition of PlasmaSi Inc," says Goetzeler. Through increased throughput compared with existing technologies, Aixtron sees significant market opportunities for PlasmaSi's thin-film encapsulation process. The acquisition also offers market as well as customer synergies with Aixtron's existing OVPD (organic vapor phase deposition) technology, the firm reckons. "We will be able to cover nearly two-thirds of the value chain in the front-end of the OLED production in the future," he notes. "Also, the preparations for putting our Gen8 demonstrator into operation for the production of large-area OLEDs are on track… customer interest in our other technologies remains high." 
As the firm is pressing ahead with implementing its innovation roadmaps, productivity and efficiency programs across all areas, Aixtron expects to see a sequential increase in results in both halves of 2015 compared with the previous six-month periods. For full-year 2015, Aixtron forecasts revenue growth to €220-250m (up on 2014's €193.8m). "We do expect profitability to improve as revenues pick up in the second half," says Goetzeler. Specifically, the firm expects to reach EBITDA break-even in second-half 2015.
Aixtron acquires PECVD-based OLED thin-film encapsulation firm PlasmaSi
Aixtron's revenue rebounds by 27% in Q4, driving 6% growth in full-year 2014
Aixtron continues reorganization in 2015
Aixtron launches AIX R6 next-generation MOCVD system
Aixtron's losses worsen in Q3, driven by product launch, sales mix and upfront investments
China's San'an expands by ordering 50 Aixtron MOCVD systems
Aixtron's orders rise for fifth consecutive quarter
Aixtron's quarterly orders the highest in over two years
Aixtron outlines 5-Point Program to return to sustainable profitability
Tags: Aixtron MOCVD PECVD OLEDs
Visit: www.aixtron.com