20 May 2015
Custom MMIC unveils GaN and GaAs MMICs at IMS
At the 2015 IEEE MTT-S International Microwave Symposium (IMS) in Phoenix, Arizona (19-21 May), monolithic microwave integrated circuit (MMIC) developer Custom MMIC of Westford, MA, USA has debuted several new gallium arsenide (GaAs) and gallium nitride (GaN) MMIC amplifiers, switches and multipliers including two GaAs broadband MMIC low-noise amplifiers (the CMD228P4 and CMD229P4) and a GaAs passive doubler (the CMD225).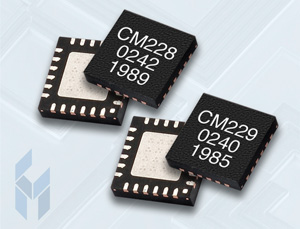 Picture: Custom MMIC's new GaAs broadband low-noise amplifiers.
The CMD228P4 operates at 2-6GHz, delivers 30dB of gain and achieves a noise figure of 1.3dB. The CMD229P4 operates at 5-11GHz, delivers 27dB of gain, and achieves a noise figure of 1.2dB. Both LNAs are housed in a leadless, plastic 4mm x 4mm surface-mount package.
The CMD225 is a passive doubler in die form that operates at 4-8GHz, has 12dB conversion loss, and achieves fundamental and 3rd-harmonic rejections of greater than 38dB and 50dB, respectively.
Applications for these components include military, space, test instrumentation and other high-performance communications applications.
Custom MMIC launches 4-8GHz GaN LNA for high RF power survivability
Custom MMIC launches 4-8GHz GaN LNA
Custom MMIC launches 5-9GHz GaN LNA
Tags: Custom MMIC LNA
Visit: www.CustomMMIC.com