18 September 2015
Finisar's profits fall after higher-than-expected costs from new-product qualifications
For its fiscal first-quarter 2016 (ended 2 August), fiber-optic communications component and subsystem maker Finisar Corp of Sunnyvale, CA, USA has reported revenue of $314m, down 1.9% on $320m last quarter and 4% on $327.6m a year ago.
| | | | | | |
| --- | --- | --- | --- | --- | --- |
| Fiscal | Q1/2015 | Q2/2015 | Q3/2015 | Q4/2015 | Q1/2016 |
| Revenue | $327.6m | $297m | $306.3m | $320m | $314m |
However, last quarter had an extra (14th) week (rather than fiscal Q1's 13). "Taking that into consideration, the first fiscal quarter had a higher average weekly revenue relative to the prior quarter," notes executive chairman Jerry Rawls.
Due mainly to the impact of one fewer week than the prior quarter, datacom product sales fell by $8.7m (3.6%) on last quarter (with legacy 100G CFP down after an extremely strong fiscal Q4, and wireless not as strong as expected). "Strength in revenue was primarily driven by 40 Gigabit transceivers for datacom applications," says Rawls. Telecom product sales rose by $2.7m (3.4%) on last quarter.
Finisar had two 10%-or-greater customers. The top 10 customers represented 60.7% of total revenue, up from 58.8% last quarter.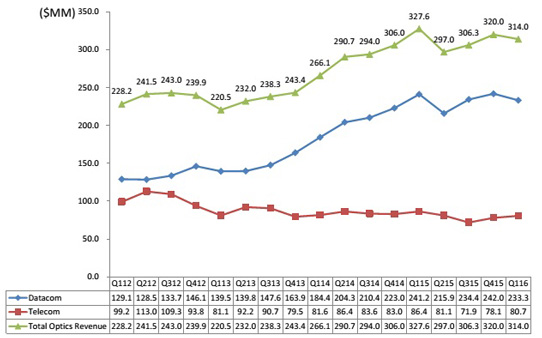 Picture: Finisar's quarterly revenue trends.
On a non-GAAP basis, gross margin has fallen further, from 32% a year ago and 30.3% last quarter to 30.2%.
Operating expenses rose slightly from $68.2m last quarter to $68.4m (more than the expected $67-68m), due mainly to higher-than-expected costs associated with the qualification of new products.
Operating income fell from $35.4m (10.8% of revenue) a year ago and $28.8m (9% of revenue) last quarter to $26.5m (8.4% of revenue). Likewise, net income fell from $33.3m ($0.32 per diluted share) a year ago and $26.9m ($0.25 per diluted share) last quarter to $24.5m ($0.23 per diluted share).
Capital expenditure was $34.7m, up on just $30.1m last quarter, as the timing of some of the expenditures associated with the building construction in Wuxi, China were pushed into fiscal Q1. 
During the quarter, cash, cash equivalents and short-term investments rose by $5.5m from $490.2m to $495.7m.
For fiscal second-quarter 2016, Finisar expects revenue of $304-324m (with telecom sales relatively flat and, in datacoms, 40G down after an extremely strong fiscal Q1 and 100G for data centers bouncing back). Gross margin should be about 30%, "as we continue to see a high level of competition," says Finisar.
"We have started taking actions to reduce our operating expense levels," says Rawls. Operating expenses are expected to be cut from 21.8% to 21.4% of revenue. "Our target is to ultimately have operating expenses at approximately 20% of revenue… during the first half of fiscal 2017," notes Rawls.
Operating margin is expected to be 8-9%. Earnings per diluted share should be $0.20-0.26.
CapEx is expected to be about $35m. Build-out of the remaining floors of the second building in Wuxi, China will be completed by the end of fiscal 2016, after which CapEx should drop back down to a more normalized level of $30m.
"While we expect the remainder of fiscal 2016 to be challenging, we are optimistic about fiscal 2017," says Rawls. "We expect to benefit from the ramp of many new products and associated revenue growth driven by both data-center construction and upgrades and the increased deployments of ROADMs and 100G coherent transceivers in the telecom metro market," he adds.
"We continue to believe that the long-term growth prospects of our company and the optical communications industry are positive," says Rawls. "From our position as the industry leader, we will continue to develop the technology and the next generation of products for both the datacom and the telecom markets. Finisar's revenue is driven primarily by growth in the global demand for bandwidth due to the increasing distribution and use of video, images and digital information. In addition, Finisar continues to benefit from the growth in cloud services, which drives networking hardware upgrades of existing data centers and the buildout of new hyperscale data centers."
See related items:
Finisar's quarterly revenue grows despite annual telecom price reductions
Finisar reports quarterly revenue up 3% to $306m, as 40-100Gb/s datacom growth outweighs slow telecom carrier spending
Finisar sees first quarterly revenue drop in two years
Finisar's September quarter to see first revenue decline in two years
Finisar opens production plant in Wuxi, China
Tags: Finisar
Visit: www.finisar.com