9 December 2016
Finisar's quarterly revenue grows 8.4% to record $370m
For its second quarter of fiscal year 2017 (ended 30 October 2016), fiber-optic communications component and subsystem maker Finisar Corp of Sunnyvale, CA, USA has reported record revenue of $369.9m, up 8.4% on $341.3m last quarter and 15% on $321.1m a year ago.
There were again two 10%-or-greater customers. The top 10 customers represented 57.9% of total revenue (down from 60.2% last quarter).
Telecom product sales were $107.6m, up 9.9% on $97.9m last quarter and up 23% on $87.4m a year ago, due mainly to strong demand for 100G transceivers as well as wavelength-selective switch (WSS) and reconfigurable optical add-drop multiplexer (ROADM) line-card products.
Datacom product sales were $262.3m, up 7.7% on $243.4m last quarter and up 12.2% on $233.8m a year ago, due to growth in demand for 100G transceivers, rising by about 30% on last quarter and over 80% on a year ago to about 30-35% of datacom revenue. Sales of 40G datacom transceivers were roughly flat on last quarter.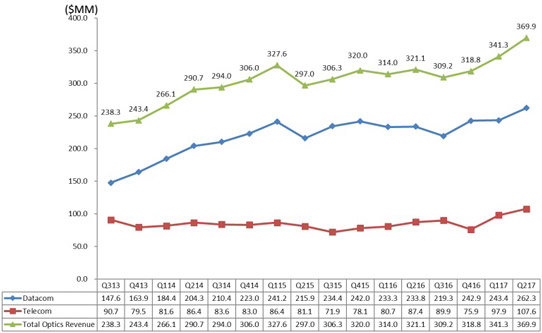 Graphic: Finisar's quarterly revenue trends.
On a non-GAAP basis, gross margin has risen further, from 30% a year ago and 33.1% last quarter to 37.2% (well above the expected 34%). This is attributed to a favorable product mix as well as operational leverage achieved through vertical integration with larger production volumes.
Operating expenses were $69.4m, roughly level with $69.3m last quarter but below the expected $71m, and cut from 20.3% of revenue to 18.8% of revenue.
Operating income has risen further, from $28.3m (8.8% of revenue) a year ago and $43.5m (12.8% of revenue) last quarter to $68.3m (18.5% of revenue, well above the guidance range of 14.3-15.3%).
Net income has risen further, from $26.9m ($0.25 per diluted share) and $41.8m ($0.38 per diluted share) last quarter to $65.2m ($0.58 per diluted share, well above the $0.44-0.50 guidance).
Capital expenditure (CapEx) was about $30m. During the quarter, cash, cash equivalents and short-term investments hence rose by $32.5m, from $593.8m to $626.3m.
For fiscal third-quarter 2017, Finisar expects 5% revenue growth to a further record of $378-398m, boosted by increased sales of 400G transceivers. Gross margin should rise to 37-38%, due mainly to a favorable product mix plus the operating leverage from vertical integration, despite being offset partially by the impact of one month of annual telecom price reductions that are typically effective from 1 January. Operating expenses are expected to be $72m (down slightly to 18.6% of revenue). Operating margin should improve further to 18.5-19.5%. Driven by the growing revenue and improving margins, earnings per fully diluted share are expected to grow to $0.58-0.64 (another quarterly record). Capital expenditure will rise to about $40m. This elevated level of CapEx should continue in fiscal Q4.
"We continue to add capacity for a number of products," says chairman & CEO Jerry Rawls. "For QSFP28 in particular, we plan to increase capacity significantly in the third quarter and have plans to continue to increase the capacity in the subsequent quarters," he adds. "We are also adding capacity for the 100G and 200G coherent CFP2 ACO transceivers and the ROADM line cards for telecom and long haul and metro. We expect the qualification of these products by key customers in the next few months."
"In addition, we are also adding capacity for our wavelength selective switches. We believe that China will begin significant domestic deployments of ROADMs in calendar 2017," continues Rawls. "We are still adding a lot of equipment and people in the Wuxi [China] facility… We are going to add a third building, which will increase our capacity there by 50%."
"Finally, we are adding capacity over the next couple of quarters in our VCSEL [vertical-cavity surface-emitting laser] fab in Allen, Texas. This will enable us to pursue several new consumer applications for 3D sensing," concludes Rawls.
Finisar quarterly revenue grows a more-than-expected 7%, driven by 22% growth in 100G datacom transceivers
Finisar's growth in 100G datacom transceivers outweighs drop in legacy 10G telecom products
Finisar's wavelength-selective switch Telecom sales growth offsets tail-off in 40G transceiver Datacom sales
Finisar's sales driven by higher-than-expected growth in 10G tunable transceivers and wavelength-selective switches
Finisar opens production plant in Wuxi, China
Tags: Finisar
Visit: www.finisar.com