12 September 2016
Finisar quarterly revenue grows a more-than-expected 7%, driven by 22% growth in 100G datacom transceivers
For its fiscal first-quarter 2017 (ended 31 July 2016), fiber-optic communications component and subsystem maker Finisar Corp of Sunnyvale, CA, USA has reported record revenue of $341.3m, up 7.1% on $318.8m last quarter and up 8.7% on $314m a year ago.
There were again two 10%-or-greater customers. The top 10 customers represented 60.2% of total revenue, up from 56.4% last quarter.
Datacom product sales were $243.4m, up 4.3% on $233.3m a year ago and up 0.2% on $242.9m last quarter. Growth was driven primarily by strong demand for 100Gb/s transceivers (including CFP, CFP2, CFP4 and QSFP28 form factors) offset partially by a decline in sales of transceivers for wireless applications and in 40G transceivers (to about 20% of datacom revenue). Excluding transceivers for wireless applications, datacom revenue rose by 3.1% sequentially. In particular, sales of 100G transceivers for datacom applications were up 21.8% on last quarter and 115.8% on a year ago. QSFP28 sales especially more than doubled in fiscal Q1.
Telecom product sales were $97.9m, up 21% on $80.7m a year ago and up 29% on $75.9m last quarter. Growth was due to higher sales of wavelength-selective switches (WSS, growing more than the expected 10%) as well as coherent receivers and 100G transceivers. Growth was boosted by a broad rebound in demand for other telecom products (including amplifiers and both tunable and fixed-wavelength 10G transceivers) following an unexpected decline in a variety of products last quarter.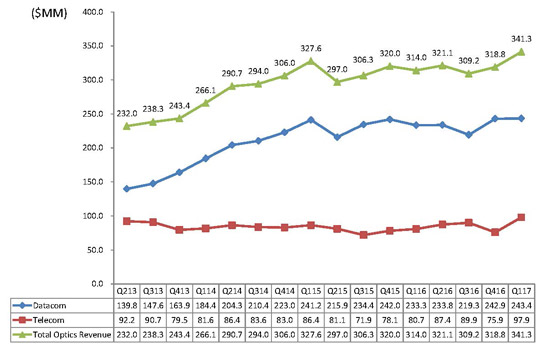 Graphic: Finisar's quarterly revenue trends.
On a non-GAAP basis, gross margin improved significantly, from 30.2% a year ago and 30.6% last quarter to 33.1% (well above the expected 31%). This is attributed to a favorable product mix (selling more 100G transceivers than expected, aided by the decline in lower-margin wireless transceivers) and leveraging the firm's vertically integrated manufacturing infrastructure over the larger volumes.
Operating expenses are up from $66.2m last quarter to $69.3m (above the expected $68.5m) due to higher payroll taxes from the annual vesting of employee stock grants, higher legal expenses from two patent trials completed during the quarter, and higher employee compensation levels. However, operating expenses as a percentage of revenue have fallen from 20.8% last quarter to 20.3%.
Operating income has risen from $26.5m (operating margin of 8.4% of revenue) a year ago and $31.2m (9.8% margin) last quarter to $43.5m (12.8% margin, well above the expected 9.9-10.9%).
"The combination of revenues being at the higher end of our guidance range [of $323-343m] and better-than-expected gross margins resulted in earnings per fully diluted share exceeding the upper end of our guidance range [of $0.27-0.33]," says executive chairman & CEO Jerry Rawls. Net income has risen from $24.5m ($0.23 per diluted share) a year ago and $31.8m ($0.29 per diluted share) last quarter to $41.8m ($0.38 per diluted share).
Capital expenditure (CapEx) was closer to $20m rather than the expected $30m, since some expenditures associated with the fit-out of additional space at Oclaro's Malaysia assembly & packaging facility has rolled from fiscal Q1 into fiscal Q2, and the timing of receiving some high-dollar-value equipment into one of the firm's fabs also got pushed out.
Overall, cash, cash equivalents and short-term investments rose by $31.3m during the quarter, from $562.5m to $593.8m.
"We continue to see strong worldwide demand for telecom optical components due to the new long-haul, metro and wireless deployments by many major carriers," says Rawls. "Demand from North America and China remain particularly strong from the metro build outs in North America and both long-haul and metro deployments in China," he adds.
For fiscal second-quarter 2017, Finisar expects revenue to rise by about 7% to $355-$375m. Datacom product revenue should grow primarily due to increased sales of 100 Gigabit Ethernet transceivers. In particular, QSFP28 sales could again more than double. "We are capacity constrained and we are adding capacity as fast as we can on those products," comments chief financial officer Adzema. Telecom revenue growth will be driven by strong demand for wavelength-selective switches and reconfigurable optical add-drop multiplexer (ROADM) line-cards. In addition, Finisar expects increased line-side revenue for 100Gb/s and 200Gb/s coherent CFP2-ACO transceivers.
Gross margin should rise further to 34%. Operating expenses are expected to increase further to $71m, due primarily to annual salary merit increases that occurred on 1 August plus higher sales & marketing expenses related to increased revenue, offset partially by lower legal expenses. Operating margin is expected to rise further to 14.3-15.3%. Earnings per fully diluted share should rise to $0.44-0.50. CapEx should return to the more usual $30m.
"We are still sold out for a number of products and continue to add capacity to meet the strong demand," notes Rawls. "Some of our capacity expansion investments include a 100G client-side transceivers, QSFP28, wavelength-selective switches, line-cards, 25G lasers and our 100G and 200G coherent CFP2-ACO transceivers," he adds.
"In fiscal 2017, we expect to benefit from the ramp of many new products," says Rawls. "Revenue growth will be driven by data-center construction, 100G upgrades and the increased deployment of ROADMs and 100Gb/s and 200Gb/s coherent transceivers in telecom long-haul and metro markets."
Finisar's growth in 100G datacom transceivers outweighs drop in legacy 10G telecom products
Finisar's wavelength-selective switch Telecom sales growth offsets tail-off in 40G transceiver Datacom sales
Finisar's sales driven by higher-than-expected growth in 10G tunable transceivers and wavelength-selective switches
Finisar's profits fall after higher-than-expected costs from new-product qualifications
Finisar's quarterly revenue grows despite annual telecom price reductions
Finisar opens production plant in Wuxi, China
Tags: Finisar
Visit: www.finisar.com