15 March 2016
Finisar's wavelength-selective switch Telecom sales growth offsets tail-off in 40G transceiver Datacom sales
For its fiscal third-quarter 2016 (to end-January), fiber-optic communications component and subsystem maker Finisar Corp of Sunnyvale, CA, USA has reported revenue of $309.2m, down 3.7% on $321.1m last quarter but up slightly on $306.8m a year ago.
There were two 10%-or-greater customers. The top 10 customers represented 58.4% of total revenue.
Telecom product sales rose by $2.6m (2.9%) from $87.4m last quarter to $89.9m, driven by 25% growth in wavelength-selective switches (WSS) to nearly 30% of telecom revenue.
Datacom product sales fell by $14.5m (6.2%) from $233.8m last quarter to $219.3m, driven by a decline in 40G transceivers, primarily due to reduced levels of capital spending by Web 2.0 and hyperscale data-center customers in anticipation of the roll-out of next-generation 100G QSFP28 transceivers.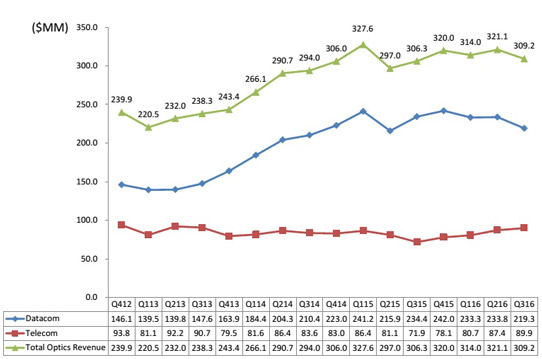 Picture: Finisar's quarterly revenue trends.
On a non-GAAP basis, gross margin rose from 30% last quarter to a better-than-expected 30.3%, as favorable product mix more than offset the impact of one month of annual telecom price negotiations (which typically take effect on 1 January).
Although up from $65.3m a year ago, operating expenses have been cut from $68m last quarter to a $67.3m (21.8% of revenue), less than the expected $67.5-68m.
Operating income was $26.3m (operating margin of 8.5% of revenue), down from $28.3m last quarter but roughly level with $26.9m a year ago, and at the top end of the expected range of 7.5-8.5% of revenue.
Net income was $26.6m ($0.25 per fully diluted share), roughly level with $26.9m ($0.25 per fully diluted share) last quarter and $26.7m ($0.25 per fully diluted share), and at the upper end of the $0.19-0.25 guidance range.
Capital expenditure (CapEx) was $26.8m, lower than the forecasted $35m as some final expenditures associated with the fit out of the second building in Wuxi, China rolling into fiscal fourth-quarter 2016 (when CapEx should rise to $33m, then fall back to $30m per quarter in fiscal 2017).

During the quarter, cash, cash equivalents and short-term investments rose by $10.3m from $520.8m to $531.1m.
For fiscal fourth-quarter 2016, Finisar expects revenue of $307-327m (including growth in both Datacoms and Telecoms). Gross margin should fall back to 30% (as the positive impact of favorable product mix is offset by the impact of three months of the annual telecom price reductions). Operating expenses are expected to be relatively flat at about $67.5m. Operating margin should be 8.2-9.2%. Earnings per fully diluted share should be $0.22-0.28.
"We are seeing strong growth from China, due to the continued long-haul and wireless build-outs at China Telecom, China Unicom and China Mobile, as well as strength in North America from the expansion of next-generation metro networks," says CEO & executive chairman Jerry S. Rawls. Finisar also expects telecom revenue growth from Europe and the Middle East.
Datacom revenue growth is expected to be due mainly to increased sales of 100 Gigabit Ethernet transceivers and CFP, CFP2, CFP4 and QSFP28 form factors.
Telecom revenue growth is expected to be due mainly to continued strong demand for wavelength-selective switches and ROADM line-cards. Growth is also expected from 100G and 200G line-side products such as CFP2-ACO.
"Given the strong demand for our 100G client-side modules as well as our wavelength-selective switches, WSS-based line-cards and our CFP2-ACO products, we are capacity constrained on all of these products, and we are actively adding capacity to meet customer demand," says Rawls.
"In fiscal 2017, we expect to benefit from the increased sales of many new products driven by both data-center construction and upgrades and increased deployment of ROADMs and the 100-200G coherent transceivers in telecom long-haul and metro," says Rawls. "Finisar's revenue is primarily driven by growth in the global demand for bandwidth from the increasing distribution and use of video, images and digital information. In addition, Finisar continues to benefit from the growth in cloud services, which drives networking hardware upgrades of existing data centers and the construction of new hyperscale data centers," he adds.  
Finisar's sales driven by higher-than-expected growth in 10G tunable transceivers and wavelength-selective switches
Finisar's CEO Eitan Gertel resigns
Finisar's profits fall after higher-than-expected costs from new-product qualifications
Finisar's quarterly revenue grows despite annual telecom price reductions
Finisar reports quarterly revenue up 3% to $306m, as 40-100Gb/s datacom growth outweighs slow telecom carrier spending
Finisar opens production plant in Wuxi, China
Tags: Finisar
Visit:  www.finisar.com