27 April 2017
Aixtron's Q1 revenue and order intake rise strongly year-on-year
For first-quarter 2017, deposition equipment maker Aixtron SE of Herzogenrath, near Aachen, Germany has reported revenue of €53.6m, down 40% on last quarter's exceptionally high €89.8m (which comprised about half of full-year 2016 revenue) but up on €21.4m on a year ago (and the highest Q1 revenue since 2011). Based on solid order backlog at the end of 2016, growth was driven mainly by demand for production systems for Optoelectronics, Power Electronics, and LEDs, as well as for Memory applications.
Specifically, equipment revenue was €43.5m (81% of total revenue), up on just €11.9m (56% of total revenue) a year ago. Meanwhile, revenue from spare parts & services has grown by 6% from €9.5m a year ago to €10.1m.
On a regional basis, 81% of revenue came from Asia (continuing to rebound, after dipping from 70% a year ago to just 44% in Q2/2016), 8% came from Europe (down from 15% last quarter), and 11% came from the USA (down from 17%).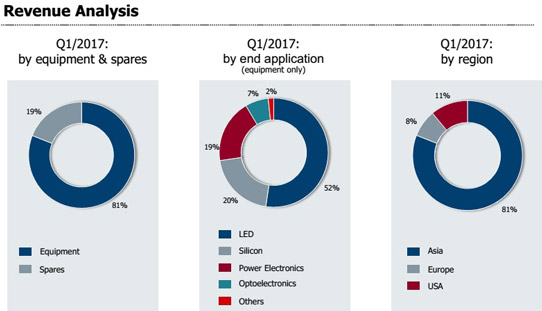 Although down on last quarter's 33%, gross margin is still up on 15% a year ago to 25%, or 27% excluding Aixtron's €1m write-down of inventory assets for equipment related to III-V materials for future-generation logic chips (TFOS) – comprising the firm's first measures to focus R&D spending for the development of future technologies by freezing product development for III-V-materials for TFOS.
Operating expenses have risen further, from €17.8m a year ago and €21.4m last quarter to €26.4m, due mainly to higher R&D expenses. However, excluding a €5.6m write-down of assets from freezing the TFOS-related equipment development activities, R&D spending would have been a more normal €14.1m (just 26% of revenue, whereas the €13.3m R&D expenses a year ago equated to 62% of revenue at that time).
Compared with last quarter's exceptionally high €12.5m, earnings before interest, tax, depreciation and amortization (EBITDA) was -€6m, but this is still an improvement on ‑€11.7m a year ago.
The gross margin and EBIT were impacted by low-margin sales of AIX R6 metal-organic chemical vapor deposition (MOCVD) systems from inventory.
The net result was -€13.5m. However, excluding the total TFOS-related write-downs of €6.6m, the adjusted net result was -€6.9m, compared with last quarter's exceptionally high €6.4m, but an improvement from -€15.5m a year ago.
"Inventory at €49.9m [cut from €54.2m last quarter] is at its lowest level for 10 years and is a clear reflection of the improvements we've made in inventory management [plus shipments of AIX R6 MOCVD systems from inventory]," says chief accounting officer Charles Russell. "Secondly advance payments from customers increased to €30.5m from €26.1m, reflecting the continued strong order intake in 2017."
Due mainly to the collection of accounts receivable as well as the increase in advance payments from customers for new orders, operating cash flow was €34.6m. Capital expenditure (CapEx) has been cut further, to €1.3m (from €2.2m last quarter and €5.1m a year ago). Overall, free cash flow has hence improved further, from -€20.3m a year ago and -€4.9m last quarter to €33.3m.
During the quarter, cash and cash equivalents (including cash deposits with a maturity of more than 3 months) rose from €160.1m to €193.6m, due mainly to the collection of trade receivables from customers. Aixtron continues to have a healthy balance sheet with equity of €356.7m, cash of €193.6m and no debt.
Order intake was €61.9m in Q1, roughly level with €60.5m last quarter but up 39% on €44.4m a year ago. As of end-March, equipment order backlog was €87.6m, up 12% on €78.1m at the beginning of 2017 and up 29% on €67.7m a year previously.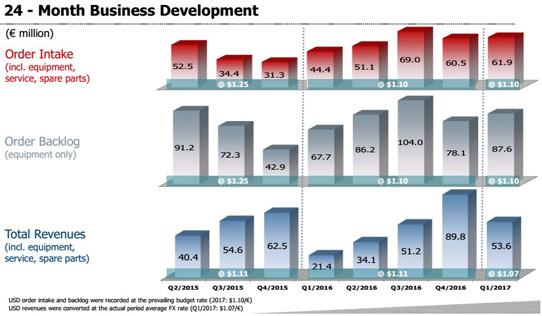 As in previous quarters, the key driver for the development in revenues and order intake was demand for production systems for specialty LED (red-orange-yellow; UV and IR), telecom and optoelectronics, as well as for NAND and DRAM memory applications. This in turn was mainly attributable to emerging technology trends, such as big data, cloud computing, electro mobility, and the upcoming 5G mobile communication standard.
"Aixtron has a wide portfolio of enabling technologies for highly diversified applications and industries. To better focus R&D costs for the development of future technologies, we will group our portfolio for future technologies and transfer it into clearly defined independent units to be financed with respective technology partners," says CEO Kim Schindelhauer. "In a first step to focus our R&D expenses in the future, we wrote down assets totaling €6.6m resulting from freezing our product development for III-V-Materials for future-generation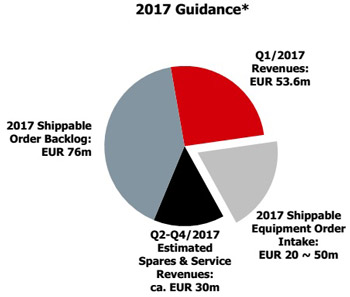 logic chips (TFOS)," he adds. "We will not spend further R&D until a firm timeline for the introduction of this material application has been set and a partner covers the required developments costs. Then, we are fully committed to support our customers to introduce TFOS materials to the market."
The comparatively high order intake in Q1/2017 supports Aixtron's expectation regarding the development of revenues and order intake during 2017. Consequently, the firm reiterates its full-year 2017 guidance (given in February) for order intake and revenue of €180-210m (consisting of Q1's revenue of €53.6m supplemented by 2017-shippable order backlog of €76m joined by a forecasted €20-50m of further 2017-shippable equipment order intake, plus a forecasted €30m of spares & service revenue). It also continues to expect an improvement in free cash flow in 2017 compared with 2016 and to achieve a positive EBIT for full-year 2018.
Aixtron's returns profit in Q4, helping full-year 2016 revenue recover to 2015 level
Aixtron's supervisory board chairman to become interim CEO
Aixtron to delist American depositary shares from NASDAQ and deregister with SEC
China's Grand Chip abandons acquisition of Aixtron
Aixtron returns to positive free cash flow in Q3, boosted by sales of AIX R6 system inventory
Aixtron's increased orders in Q2 herald recovery in second-half 2016
Aixtron's Q1 revenue hit by ongoing weak LED-related demand
Aixtron continues reorganization in 2015
Aixtron launches AIX R6 next-generation MOCVD system
Tags: Aixtron MOCVD PECVD OLEDs
Visit: www.aixtron.com