22 May 2017
ROHM expands full-SiC power module lineup
Japan's ROHM Semiconductor has developed 1200V 400A/600A-rated full-silicon carbide (SiC) power modules [BSM400D12P3G002/BSM600D12P3G001] - available in June (for samples and OEM quantities) - optimized for inverters and converters in solar power conditioners, uninterruptible power supplies (UPS), and power supplies for industrial equipment.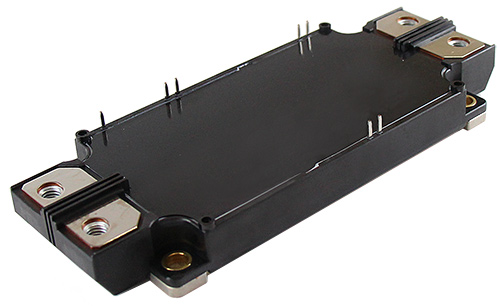 The BSM600D12P3G001 achieves a rated current of 600A by utilizing a new package featuring an original internal structure and optimized heat radiation design, enabling support for higher-power applications such as large-scale power supplies for industrial equipment.
In addition, switching loss is reduced by 64% (at a chip temperature of 150°C) compared with insulated-gate bipolar transistor (IGBT) modules at the same rated current, improving energy savings considerably.
Also, along with reducing the size of peripheral components through high-frequency operation, the effects of reducing switching loss are greater when driving at high frequencies, contributing to the miniaturization of cooling and other systems. For example, from preliminary calculations based on loss simulation in cooling systems, adopting SiC modules can reduce the size of water-cooled heat sinks by up to 88% compared with equivalently rated IGBT modules.
In recent years, SiC has seen increased adoption in a greater number of markets, including the automotive and industrial sectors, due to its superior energy-saving performance, and products that can handle larger currents are being demanded. However, to maximize the high-speed switching characteristics of SiC – particularly in products with large current ratings such as power modules – it is necessary to develop a new package that suppresses the effects of surge voltage during switching.
ROHM says that, in March 2012, it was first to mass produce full-SiC power modules integrating power semiconductor elements composed entirely of silicon carbide. Since then, it has developed high-power products up to 1200V/300A that have been adopted in a variety of fields. The latest modules utilize a new package design that expands the firm's SiC module lineup to cover the key current range from 100A to 600A to meet the growing demand in the IGBT market.
Reduced switching loss contributes to greater energy savings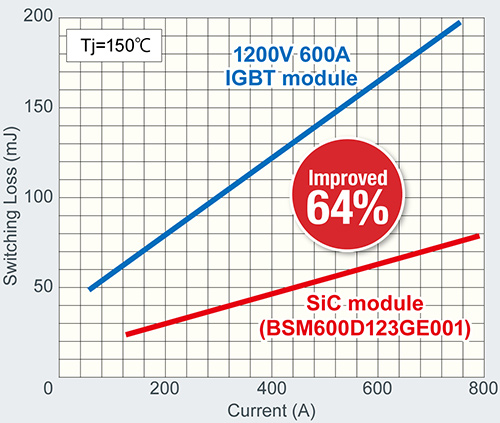 Achieving full-SiC power modules equipped with ROHM SiC Schottky barrier diodes (SBDs) and metal-oxide-semiconductor field-effect transistors (MOSFETs) makes it possible to reduce switching loss by 64% (at a chip temperature of 150°C) versus IGBTs at the same current rating. This minimizes power conversion loss in applications, contributing to increased energy savings.
High-frequency drive supports smaller peripheral components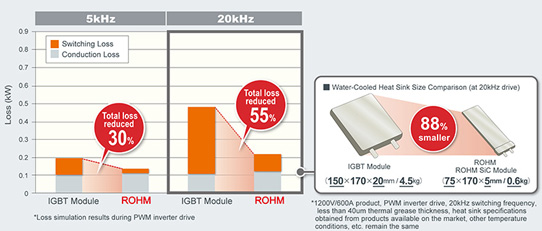 Loss simulations conducted with PWM inverter drive resulted in a 30% reduction at 5kHz drive and an even more substantial reduction in total loss of 55% at 20kHz PWM vs equivalently rated IGBT modules. In the case of 20kHz operation the size of the heat sink can be reduced by 88%. High-frequency drive also supports the use of smaller passive peripheral components.
Technical challenges for achieving larger currents
1. Reducing package inductance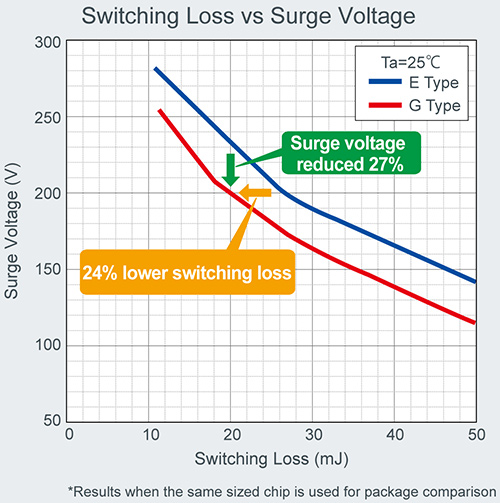 Increasing the current rating of power modules also increases the surge voltage during switching, making it necessary to minimize inductance within the package. However, optimizing the internal placement of the SiC device along with terminal configuration and pattern layout has allowed ROHM to reduce internal inductance by 23% versus conventional products. The new G Type package suppresses surge voltage by 27% at the same loss compared with standard packages, enabling the development of the 400A and 600A modules. This new package also decreases switching loss by 24% under the same surge voltage drive conditions.
2. Improving package heat dissipation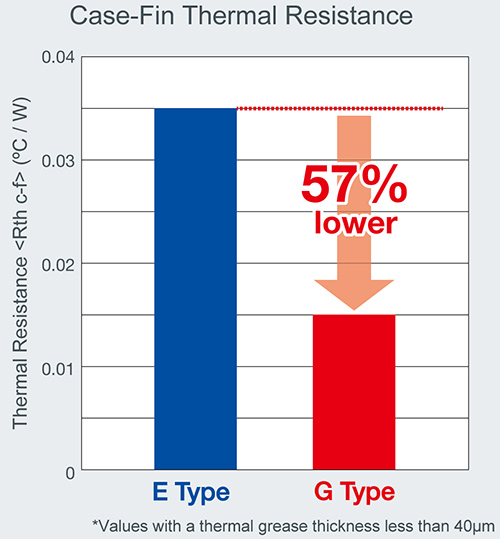 Achieving a rated current of 600A entails not only reducing internal inductance but heat generation as well. By improving the flatness of the base-plate section that significantly contributes to the heat dissipation of the module, ROHM was able to reduce the thermal resistance between the cooling mechanism and the customer's base plate by 57%.
In addition to SiC modules, ROHM also offers a gate driver board that enables quick and easy evaluation.
Rohm launches 1700V SiC MOSFET
Rohm showcasing new third-generation 650V SiC Schottkys and 1200V/180A full-SiC modules at PCIM
Rohm starts mass production of first trench-type SiC MOSFET
Rohm presenting third-generation SiC trench MOSFETs at PCIM
Tags: Rohm SiC Schottky barrier diodes SiC power MOSFET
Visit:  www.rohm.com/web/global/full-sic-power-modules