10 August 2018
Seoul Viosys launches UV WICOP LED module
© Semiconductor Today Magazine / Juno PublishiPicture: Disco's DAL7440 KABRA laser saw.
South Korean UV LED maker Seoul Viosys Co Ltd has launched the UV WICOP module, which combines Seoul Semiconductor's WICOP LEDs with compact and high-efficiency technology.
Designed using a single chip and phosphor only (without any components such as lead frame and gold wire), Seoul Semiconductor's patented WICOP (Wafer Level Integrated Chip on PCB) is said to be the first product that does not require a packaging process. Seoul Viosys has applied the technology to its UV LEDs and has been granted a patent for the combined technology.
Conventional UV LEDs have high manufacturing costs due to the additional components, and performance is also degraded by the overload of heat emitted from each component. However, UV WICOP cuts cost by incorporating just a single chip without additional components, and it is effective for heat dissipation. The design can be changed easily, depending on the application or customer requirements.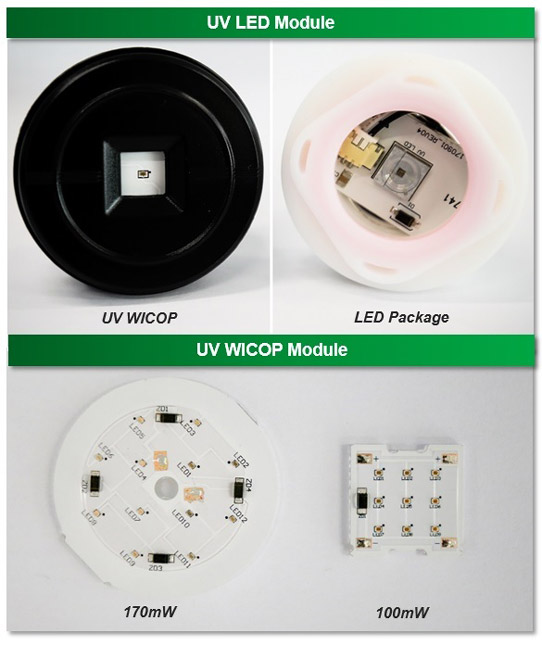 Picture: Seoul Viosys's UV WICOP, which combines Seoul Semiconductor's WICOP LED technology.
Seoul Viosys has tested performance by applying UV WICOP technology to various applications for water and air purification as well as surface disinfection. As a result, the new UV WICOP has improved performance by more than 600%, with a lighting duration time of 45,000h compared with 2000-7000h for conventional high-powered LED packages. The price is reckoned to be 80% less than for competitors offering equivalent performance.
"Conventional UV LEDs have difficulty in expanding applications, with low light power, short duration time and high price," says Jong Man Kim, UV development executive vice president.
"Seoul Viosys has the patent for vertical high-powered package (patent no. USP 8,242,484) based on UV WICOP technology," he adds. "We will initiate mass production for new UV WICOP with cost competitiveness in the near future."
Seoul Semiconductor mass producing 210lm/W WICOP package-free LEDs
Seoul Semiconductor to mass produce Wicop LEDs
Tags: UV LEDs Seoul Semiconductor
Visit: www.seoulviosys.com
Visit: www.SeoulSemicon.com