11 December 2018
LayTec ships new EpiTT Band Edge tool for MBE of VCSELs
LayTec AG of Berlin, Germany has shipped its new metrology tool EpiTT Band Edge to the Walter Schottky Institute (WSI) in Munich. The tool is specially designed for molecular beam epitaxy (MBE) of indium phosphide (InP)- and gallium arsenide (GaAs)-based device structures.
Researchers in professor M.C. Amman's group at WSI are growing InP-based vertical-cavity edge-emitting lasers (VCSELs) in several MBE chambers in close collaboration with industrial partners so, unusually for a university institute, accurate chamber-to-chamber matching and extreme run-to-run reproducibility is a must.
Since September, after shipment and installation of the EpiTT Band Edge, all MBE systems at WSI are now equipped with EpiTTs for highly accurate growth-rate control during VCSEL epitaxy (utilizing automated pyrometric Fabry-Perot analysis) and Band Edge wafer temperature sensing. Accordingly, all MBE systems are always running at exactly the same absolute substrate temperature scale.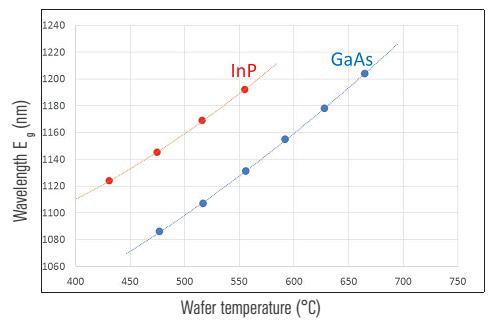 Figure: Correlation between wavelength position of InP and GaAs transmission band edge and wafer temperature. Both measurements have been performed at WSI and used for automated substrate temperature sensing and VCSEL process transfer to other MBE chambers.
Band Edge temperature sensing is a new add-on option to the EpiTT and is designed for seamless integration into the EpiTT fiber-optic head technology. Using the substrate heater radiation as a light source, the optimum temperature range is 350-600°C for InP wafers (see Figure; reproducibility is ± 1K), covering InP VCSEL growth conditions for ultrafast data communication and gas sensing applications.
VPEC chooses LayTec for VCSEL manufacturing
LayTec ships further EpiTT VCSEL systems to leading VCSEL maker in USA
LayTec receives first order for EpiTT/VCSEL
Tags:  LayTec Metrology MOCVD VCSELs
Visit:  www.laytec.de/VCSEL