8 February 2018
Oclaro's quarterly revenue falls 10% driven by CFP and QSFP client-side 100G transceiver modules
© Semiconductor Today Magazine / Juno PublishiPicture: Disco's DAL7440 KABRA laser saw.
For its fiscal second-quarter 2018 (ended 30 December 2017), Oclaro Inc of San Jose, CA, USA (which provides components, modules and subsystems for optical communications) has reported revenue of $139.3m (split about 47%:53% between client-side/datacoms and line-side/telecoms). This is down 10% on $155.6m last quarter and 9.5% on $153.9m a year ago.
Sales of 100G-and-above products fell by 16% from $125.6m (81% of total revenue) last quarter to $105.4m (76% of total revenue). Client-side 100G transceiver modules fell, with both the CFPX and QSFP families down by $7m each (after peaking last September with sales to a web-scale customer). Revenue for the CFP2-ACO (analog coherent optics) family was down by about $12m (although most of this should recover in the March quarter).
Sales of 10G and 25G products grew by 13% from $30m (19% of total revenue) to $34m (24% of revenue).
After falling for three consecutive quarters, China has rebounded from 27% of total revenue last quarter to 37%, while Europe, the Middle East & Africa (EMEA) rose from 11% to 17% as the Americas fell back from 47% to 32% and Southeast Asia was roughly level at 14%.
"China was a bright spot in the quarter, as we saw sequential revenue growth there for the first time in a year," says CEO Greg Dougherty. Sales in the region rose by 20% on last quarter, driven by three factors: (1) a large customer had a very strong December for vendor-managed inventory (VMI) pulls for several coherent components and tunable products (due to their desire to have inventory to carry them through Chinese New Year, so this level of demand is unlikely to continue in Q3 and Q4); (2) there was an increase in non-Chinese customers using Hong Kong as a staging hub; and (3) there was increased demand from Chinese transceiver customers for 10G and 25G laser chips.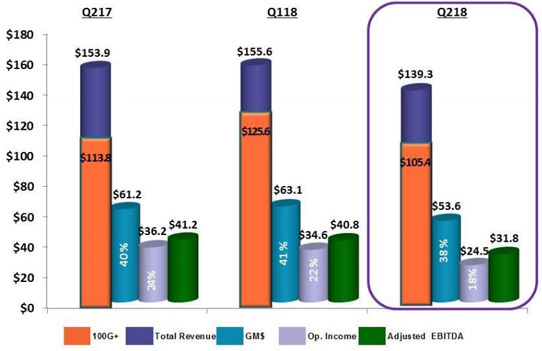 On a non-GAAP basis, gross margin was 38.4%, down from 40.6% last quarter and 39.8% a year ago (although towards the higher end of the 36-39% guidance).
Operating expenses have risen further, from $25m (16% of sales) a year ago and $28.5m (18.3% of sales) last quarter to $29.1m (20.9% of sales).
Operating income was $24.5m (operating margin of 17.6%), down from $34.6m (22% margin) last quarter and $36.2m (24% of sales) a year ago (although above the $19-23m guidance).
Likewise, net income has fallen further, from $36.3m ($0.21 per diluted share) a year ago and $34.5m ($0.20 per diluted share) last quarter to $23.1m ($0.14 per diluted share).
Adjusted EBITDA (earnings before interest, taxes, depreciation and amortization) was $32m (down from $40.8m last quarter and $41.2m a year ago). This was mostly offset by capital expenditure (CapEx) of $16m and working capital of $4m. Free cash flow was hence $10.3m. During the quarter, cash, cash equivalents and short-term investments therefore rose from $279.8m to $290.1m.
For fiscal third-quarter 2018 (ending 31 March), Oclaro expects revenue to bottom out at $120-128m (down from $164m a year previously), due to: (1) annual price negotiations taking effect (typically involving a 10-15% reduction); (2) a further $6m drop in client-side CFP family sales, levelling off at about $10m per quarter (compared with a peak of about $44m in the March 2017 quarter); (3) a drop of another $7m in sales for the QSFP28 family as demand from the web-scale customer falls again (due to their inventory situation) – amounting to a $13m drop for 100G client-side transceivers (CFP and QSFP families) collectively; and (4) a drop of about $10m in 10G and 100G telecom product revenue (as Chinese customers continue to burn off their inventory built up in the December quarter).
Countering these headwinds, the primary growth driver is expected to be a recovery in revenue for the CFP2-ACO family. "Some competitors have entered the market recently, but we have seen very little erosion of our market share," says Dougherty. "Our market position is solidified by the long-term contracts that we have signed with major ACO customers." Oclaro recently signed another contract extension with a key customer. Since fiscal Q2's drop in sales was primarily due to market conditions, Oclaro expects fiscal Q3 ACO revenue to return to September 2017 levels and to show year-on-year growth in calendar 2018 while maintaining good gross margins. "We are also hearing from our customers that Verizon's metro builds are accelerating," Dougherty notes.
Oclaro also expects to see initial revenue from its 200G ICT/ICR product (integrated coherent transmit/receiver components, currently used in-house in Oclaro's CFP2-ACO module) as it begins shipping to a large Chinese customer for their in-house DCO (digital coherent optics) builds. "By leveraging the performance and integrated small size of our components, we are enabling our customer to come to market with the DCO to be used within their communications equipment," says Dougherty.
In fiscal Q3, gross margin should fall to 34-37%. Operating income is expected to fall to $13-17m (12% of sales).
"As the headwinds facing the industry begin to subside, and we ramp new products, our revenue is expected to resume growth in the June quarter [up 5% sequentially]," says Dougherty. "We expect to see growth in a variety of products in both the telecom and datacom sectors."
"In telecom, we expect the major growth drivers to be our ACO and 400G families. These are used in metro in DCI [data-center interconnect] applications. Also, as China begins building their own DCO transceivers, we expect to see growth for our ICT/ICR and tunable laser components," says Dougherty. Revenue from the 10G and 25G product lines should remain at the $30m per quarter level for the next few quarters. "Support for this sales level comes from our industrial-temperature-range 25G transceivers for 5G front-haul applications and our tunable 10G SFP+ for cable remote 5 and metro. These products are expected ramp over second-half 2018," he adds.
"In Datacom, we expect high-speed laser chip sales and the introduction of our new 400G PAM4 transceivers to be the major growth elements," says Dougherty. Oclaro expects revenue for 100G client-side transceivers (CFP and QSFP families) to remain sequentially flat for the balance of calendar year 2018. "The vast majority of our QSFP28 revenue currently comes from the 100GBASE-LR4 products. For QSFP CWDM4, we continue to see very unhealthy pricing practices in the market from many of the lower-spec variants. As a result, we have decided that we will focus only on supplying our existing customers. By eliminating our exposure in this market, we do not expect to add any more capacity for CWDM," he adds. "Instead, we will try more focus on selling high-speed laser chips to strategic customers. We expect to see solid growth in 25G chip sales, in second-half 2018, benefiting our gross margin profile with a much richer product mix."
Oclaro also expects to start seeing revenue for 400G intra-datacenter transceivers. The global market for 400G QSFP56-DD (double density) transceivers is projected to be $280m in 2019 and to grow to $720m in 2020. "By leveraging our EMLs, we will have a very strong market position in this emerging area," believes Dougherty. Oclaro aims to begin shipping PAM4-enabled QSFP56-DD transceivers later in calendar year 2018.
At the Optical Fiber Communication Conference & Exposition (OFC 2018) in San Diego (11–15 March), Oclaro will exhibit its new DCO modules, its 400G QSFP56-DD transceivers, its family of 400G and 600G coherent optical components, and its family of directly modulated lasers (DMLs) and electro-absorption modulated lasers (EMLs) for use in datacenters.
Oclaro continues to expect CapEx of $55-65m for fiscal 2018 (including about $16m in the March quarter), with an exit rate in June of about $10m per quarter with the completion of fab expansion work.
For calendar year 2018, Oclaro expects gross margin in the high 30s (37-39%), operating expenses of $30-32m per quarter, and double-digit percentage operating income.
"As we look at bit further out to the end of 2018, we are developing a family of DCO modules that are expected to begin shipping for revenue early in calendar year 2019," says Dougherty.
Oclaro reports quarterly revenue up 4% sequentially and 15% year-on-year
Oclaro's quarterly revenue up 28% year-on-year, despite 10G softness in China
Oclaro quarterly revenue up 60% year-on-year, yielding record gross margin and operating income
Oclaro's quarterly revenue rise of 14% drives further records in gross margin and operating income
Tags: Oclaro
Visit: www.oclaro.com