24 May 2018
Oclaro quarterly revenue falls 21.5% year-on-year
© Semiconductor Today Magazine / Juno PublishiPicture: Disco's DAL7440 KABRA laser saw.
For its fiscal third-quarter 2018 (to end-March), Oclaro Inc of San Jose, CA, USA (which provides components, modules and subsystems for optical communications) has reported revenue of $127.3m (split about 41%:59% between client-side/datacoms and line-side/telecoms). This is down 8.6% on $139.3m last quarter and 21.5% on $162.2m a year ago, but at the high end of the $120-128m guidance, driven by record revenue for the 100G CFP2-ACO (analog coherent optics) product family and the laser chip business.
Despite this, sales of 100G-and-above products still fell by 9.2% from $105.4m last quarter to $95.7m (75% of total revenue).
Sales of 40G-and-below products fell by 7% from $34m to $31.6m (25% of total revenue).
"As a result of the US Department of Commerce recently re-imposing export sanctions on [China-based] ZTE, we have temporarily suspended all shipments to, and activities with, ZTE [a greater-than-10% customer]," notes CEO Greg Dougherty.
China has fallen back from 37% of total revenue last quarter ($51.4m) to 32% ($40.3m) and the Americas from 32% ($44.4m) to 27% ($33.9m), while Europe, the Middle East & Africa (EMEA) has risen from 17% ($23.1m) to 23% ($29.7m) and Southeast Asia from 14% ($18.9m) to 17% ($21.6m).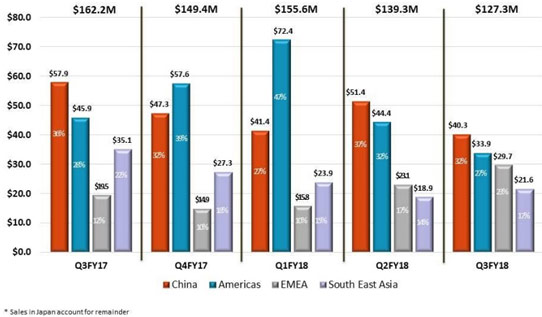 Due to the strong sales mix, non-GAAP gross margin was 37.2%, above the forecasted 34-37%. However, this is still down from 38.4% last quarter and 41.6% a year ago.
Operating expenses have risen further, from $27m a year ago and $29.1m last quarter to $32.5m.
Operating income has fallen further, from $40.5m a year ago (operating margin of 24.9%) and $24.5m last quarter (17.6% margin) to $18.1m (14.2% margin, the eighth consecutive quarter of double-digit operating margin), exceeding the guidance of $13-17m (12% margin).
Likewise, net income has fallen further, from $39.9m a year ago ($0.23 per diluted share) and $23.1m ($0.14 per diluted share) last quarter to $19m ($0.11 per diluted share).
Adjusted EBITDA (earnings before interest, taxes, depreciation and amortization) was $25.9m, down from $31.8m last quarter and $45.5m a year ago.
During the quarter, cash, cash equivalents and short-term investments rose from $290.1m to $304.4m.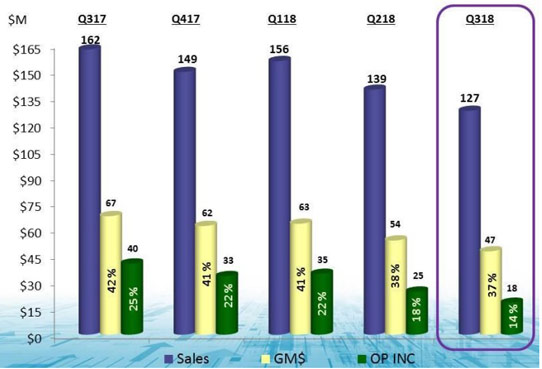 "Despite the loss of ZTE as a greater-than-10% customer for an indefinite period, we continue to believe our solid financial model and tight expense controls, when coupled with our highly differentiated products, will allow us to continue to demonstrate strong financial performance," says Dougherty.
Lumentum to acquire Oclaro for $1.8bn
Oclaro's quarterly revenue falls 10% driven by CFP and QSFP client-side 100G transceiver modules
Oclaro reports quarterly revenue up 4% sequentially and 15% year-on-year
Oclaro's quarterly revenue up 28% year-on-year, despite 10G softness in China
Oclaro quarterly revenue up 60% year-on-year, yielding record gross margin and operating income
Tags: Oclaro
Visit: www.oclaro.com