Philips Lumileds of San Jose, CA, USA is highlighting the imminent market launch of a number of power LED lighting designs enabled by its Luxeon Rebel LED's high output per mm² and small package size (3mm x 4.5mm, giving a footprint 75% smaller than other surface-mount power LEDs, it is claimed).
The Luxeon Rebel is to appear in innovative lighting designs from Chromatica and IST. Each includes features that were not possible before, since previous generations of power LEDs had too large a footprint. From high-power outdoor display screens to small residential luminaires, the products extend the range of applications of power LEDs, says Lumileds.
Chromatica is using Luxeon Rebel devices in a new tri-color (RGB) module for applications such as color-changing architectural lighting. The large package sizes of other power LEDs prevent the close mounting that is necessary to achieve effective colour mixing at a usable focal length, Lumileds claims, whereas Luxeon Rebel LEDs allow much closer packing, increasing light density and maximizing light output in the smallest possible area. Previously, close packing of red, green and blue LEDs has required the use of low-power LEDs, which give a relatively feeble light output. Now, because of the smaller optical system, optical engineering and colour mixing are simpler and potentially less costly.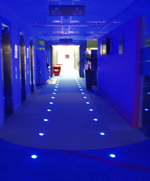 Likewise, in Chromatica's road traffic signs, the Luxeon Rebel's reduced dimensions enable compliance with strict standards for uniformity and brightness. "Precise board mounting was the key to meeting our specification, and in particular the strict uniformity standards imposed on road signs," says Chromatica director Kevin Clark.
Picture: Lighting effect created by Chromatica using Luxeon Rebel LEDs.
IST's design is for a CFL (compact fluorescent light) replacement. "CFL replacements fit a 160mm fixture, and must be produced with aggressive pricing while exceeding the requirements of energy regulations," says IST director Matt Fitzpatrick. Luxeon Rebels can also be densely placed to fit a compact form factor, he adds. "Our SCILS (Scattering Cold Illuminating Light Source) downlighter uses a patented technique to evenly disperse this light and make full use of the LED light output."
Luxeon Rebel LEDs are available in versions delivering minimum flux levels of 70, 80, 90 and 100 lumens.
See related items:
Lumileds boosts Luxeon Rebel LED to 100lm
Rebels with a solid-state-lighting cause
Lumileds solves LED efficacy 'droop', supporting adoption of 1000mA drive current
Visit: www.philipslumileds.com
Visit: www.chromatica-led.com
Visit:
www.istl.com