News
27 March 2007
Rebels with a solid-state-lighting cause
Aimed at the solid-state lighting market, Philips Lumileds of San Jose, CA, USA has released a new family of power LEDs, called Luxeon Rebel, that operate between 350 mA and 1000 mA.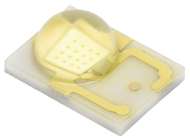 According to the company, the Luxeon Rebel (pictured) is the first power LED to offer guaranteed minimum performance. The cool-white version can exceed 70 lumens per Watt at 350 mA, and deliver more than 160 lumens at higher drive currents. It's available in warm-white, neutral-white
and cool-white color temperatures,
along with standard InGaN and AlInGaP colors.
"Luxeon Rebel takes advantage of our latest chip, phosphor and packaging technologies to accelerate the use of LEDs in a wide range of lighting applications, particularly residential and other 'white lighting' applications for which LED options have been limited," said David Eastley, product manager at Lumileds. "We also recognize that there is a technical communication gap between the semiconductor and lighting communities so we are taking the lead in defining new references for reliability — lumen maintenance and lifetime — and tools that allow reliability to be analyzed based on temperature and drive current variations."
At 3mm x 4.5mm, Lumileds says that the Luxeon Rebel's foot print area is 75% smaller than other surface mount power LEDs, and that its small footprint and low profile (2.1mm) will enable reduced color mixing and diffusion depths, allowing luminaire designs up to 50% slimmer than those using conventional power LEDs.

Above picture: Luxeon Rebel on the far left offers a foot print area that is up to 75% smaller than other surface mount power LEDs.
In its ceramic based package, the new LED is designed to withstand heat with a maximum junction temperature of 150°C, and the company says it is the first power LED for lighting to be rated for unlimited shelf life.

Lumileds adds that the Luxeon Rebel is its first power LED to offer white in warm, neutral and cool-white with typical Correlated Color Temperatures (CCTs) of 3000K, 4100K and 6500K respectively. Its white binning structure includes a CCT range from 2670K to 3500K for warm-white, 3500K to 4500K for neutral-white, and 4500K to 10000K for cool-white.
Sampling of the warm-white and neutral-white LEDs has already begun, with volume production due to start later this year.
See related items:
Cree ships brighter, lighting-class warm-white XLamp LEDs

Cree's XLamp XR-E LEDs chosen for solar-powered streetlights in China
Avago launches 3W power LED for solid-state lighting
Visit Lumileds: http://www.philipslumileds.com
Visit Future Electronics: http://www.futureelectronics.com